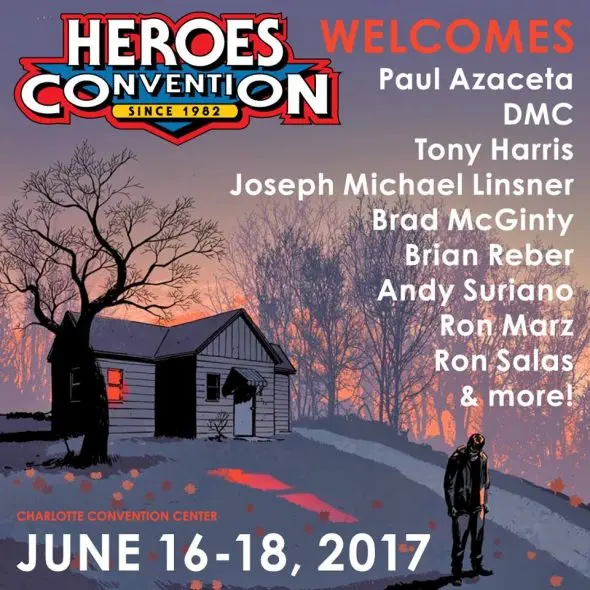 HeroesCon has announced more new guests for their 35th anniversary show including Darryl "DMC" McDaniels, Tony Harris, Paul Jenkins, Paul Azaceta, John Timms, Ron Marz, Budd Root, Ron Salas, and more! HeroesCon 2017 takes place June 16-18, 2017 at the Charlotte Convention Center.
PAUL AZACETA | Outcast, Graveyard of Empires, X-Men, Spider-Man
DUANE BALLENGER | Haunted Samidge, Uptight, Wide Awake 666
JARED CULLUM | Jim Henson's The Storyteller, Pea Green Coffee Cup
MASON DICKERSON | Take-Out Deluxe, Los Tres Perdidos, Peach Tree, Patty Island
DMC | Darryl Makes Comics, Run-DMC
JOHN FLOYD | Django Unchained, Batman: Lovers and Madmen, Rune
JORDAN GIBSON | America, Howard the Duck
TONY HARRIS | Blood Blister, Starman, JSA, Ex Machina, C-3PO
PAUL JENKINS | Alters, Hellblazer, Inhumans, Hellshock
JOSEPH MICHAEL LINSNER | DAWN, Harley Quinn, Wolverine & The Black Cat: Claws, Conan, Red Sonja
RON MARZ | Skylanders, Witchblade, Green Lantern, Ominous Press
BRAD MCGINTY | MadBalls, GLORP Gum, Adventure Time, Regular Show, Battle Zoo
BRIAN REBER | Bloodshot Reborn, Ninjak, Archer and Armstrong
BUDD ROOT | Cavewoman
RON SALAS | Six Million Dollar Man, Northguard, Prince Valiant, Amazing Spider-Man
BRIAN "SMITTY" SMITH | Tree Mail, The Castoffs, The Stuff of Legend
ANDY SURIANO | Cosmic Scoundrels, Teenage Mutant Ninja Turtles, Samurai Jack
JOHN TIMMS | Harley Quinn

CANCELLATIONS: Garry Browne, Chris Burnham, Wes Craig, Frazetta Girls, Klaus Janson, Joelle Jones, Riley Rossmo, Tim Sale
RSVP on the Facebook event page!
For the most up-to-date information, check our blog, or sign up for the weekly Heroes Hotline newsletter. You can also follow us on Twitter and Facebook!
BUYING AN ADVANCE PASS MEANS YOU'LL GET ANY ADVANCE INCENTIVES WE OFFER, FREE!
ENTRY WILL BE $25: FRI $25: SAT $20: SUN / AT THE SHOW ITSELF, SO YOU SAVE AS MUCH AS $20 BY PURCHASING ADVANCE PASSES TODAY! TICKETS ARE NOT REFUNDABLE, UNDER CERTAIN CIRCUMSTANCES WE MAY CREDIT AN UNUSABLE TICKET TOWARD FUTURE TICKET PURCHASES.
HEROES CONVENTION was founded in 1982 by Shelton Drum, owner of Charlotte's Heroes Aren't Hard To Find comics shop. Since then the convention has become famous for its comics-first and family-friendly atmosphere, where fans can mingle directly with professionals and exhibitors. Boasting an incredible guest list built mainly on reputation and goodwill, HeroesCon is known nationwide as a "must" on the summer schedule, drawing fans, exhibitors, and creators from all over the world to the Charlotte Convention Center.