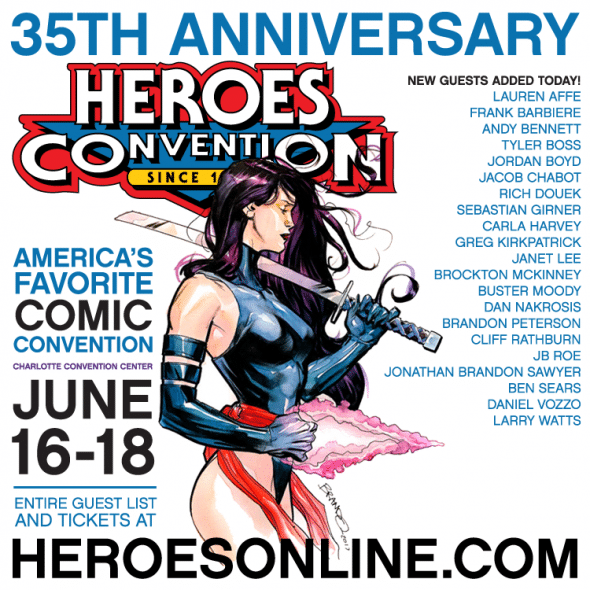 HeroesCon has announced more new guests for their 35th anniversary show including Brandon Peterson, Chris Brunner, Cliff Rathburn, Frank Barbiere, Janet Lee,  and more! HeroesCon 2017 takes place June 16-18, 2017 at the Charlotte Convention Center.
LAUREN AFFE | Buzzkill, Five Ghosts, Turok
FRANK BARBIERE | Violent Love, Five Ghosts, The Revisionist
ANDY BENNETT | Vampire: the Masquerade, The Phantom, Kolchak the Night Stalker
TYLER BOSS | 4 Kids Walk Into A Bank, Natives, Swimmers
JORDAN BOYD | Deadly Class, Savage Things, Invisible Republic, Ant-Man
CHRIS BRUNNER | Loose Ends, Southern Bastards, Batman: LOTDK
JACOB CHABOT | Marvel Tsum Tsum, Spongebob Comics, The Mighty Skullboy Army
SEBASTIAN GIRNER | Shirtless Bear Fighter
CARLA HARVEY | Pretty Girls Do Ugly Things, Blood Sister
GREG KIRKPATRICK | Living in Infamy, Savage Dragon, Big Bang Comics, Invincible
JANET LEE | Return of the Dapper Men, Jane Austen's Emma, Wonderland Alphabet
BROCKTON MCKINNEY | Gingerdead Man, Ehmm Theory, Killer Queen
BUSTER MOODY | TASK FORCE RAD SQUAD
DAN NAKROSIS | Spider-Man the Manga, X-Men the Manga, The Conservation Corps
BRANDON PETERSON | Inhumans, Age of Ultron, X-Men
CLIFF RATHBURN | Walking Dead, Green Valley
J B ROE | Brainbuster 2019, Döda
JONATHAN BRANDON SAWYER | GWAR, Welcome Home
BEN SEARS | Volcano Trash, Night Air, Double+
LARRY WATTS | Amy of Darkness, Evil Dead 2, Robyn Hood
RSVP on the Facebook event page!
For the most up-to-date information, check our blog, or sign up for the weekly Heroes Hotline newsletter. You can also follow us on Twitter and Facebook!
BUYING AN ADVANCE PASS MEANS YOU'LL GET ANY ADVANCE INCENTIVES WE OFFER, FREE!
ENTRY WILL BE $25: FRI $25: SAT $20: SUN / AT THE SHOW ITSELF, SO YOU SAVE AS MUCH AS $20 BY PURCHASING ADVANCE PASSES TODAY! TICKETS ARE NOT REFUNDABLE, UNDER CERTAIN CIRCUMSTANCES WE MAY CREDIT AN UNUSABLE TICKET TOWARD FUTURE TICKET PURCHASES.
HEROES CONVENTION was founded in 1982 by Shelton Drum, owner of Charlotte's Heroes Aren't Hard To Find comics shop. Since then the convention has become famous for its comics-first and family-friendly atmosphere, where fans can mingle directly with professionals and exhibitors. Boasting an incredible guest list built mainly on reputation and goodwill, HeroesCon is known nationwide as a "must" on the summer schedule, drawing fans, exhibitors, and creators from all over the world to the Charlotte Convention Center.