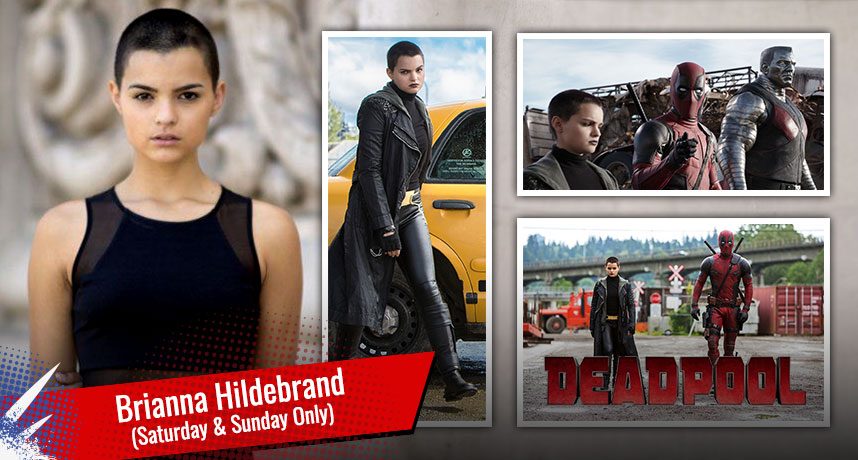 Brianna Hildebrand (Deadpool's Negasonic Teenage Warhead) is coming to The Great Philadelphia Comic Con on Saturday April 8th and Sunday April 9, 2017!
Brianna Hildebrand made her acting career debut from the web series Annie Undocumented, where she was featured in the role of Jen in 2014. The web series was created by Brian Yang, Elaine Low, and Daniel Hsia and the series was named the best web series at 2014 New York TV Festival. Later in 2015, Brianna Hildebrand made her appearance in the movie Prism, where she played the character of Julia. Her one of the most famous role in the movie includes the character of Sasha in the American romantic drama film First Girl I Loved.
Brianna Hildebrand's most successful movie came on 2016 the movie was entitled Deadpool, the movie based on a black comedy superhero. For her acting in the movie, she was nominated for the Teen Choice Awards 2016. Hildebrand is currently busy in the shooting of her upcoming projects, First Girl I Loved (2016) and Tragedy Girls (2017). She has also been announced for an upcoming sequel project, but we will let you guess what that is.
She joins fellow media stars Alan Tudyk (Rogue One), Angus Macinnes (Judge Dredd), David Ankrum (voice A New Hope), Alan Harris (Empire Strikes Back), Sean Schemmel and Mike McFarland (voice Dragonball Z), Veronica Taylor (Sailor Moon), Marina Sirtis (Star Trek: The Next Generation), Bruce Boxleitner (Tron), John Wesley Shipp (The Flash), and Karan Ashley and Walter Jones (Mighty Morphin Power Rangers).
Comics guests include Neal Adams (Superman), Mike Zeck (The Amazing Spider-Man), Jim Shooter (Secret Wars), Michael Golden (Doctor Strange), Ty Templeton (Batman '66), Chriscross (Unity), and Graham Nolan (Detective Comics).
Visit www.philadelphiacomiccon.com for further information and tickets! RSVP on Facebook!