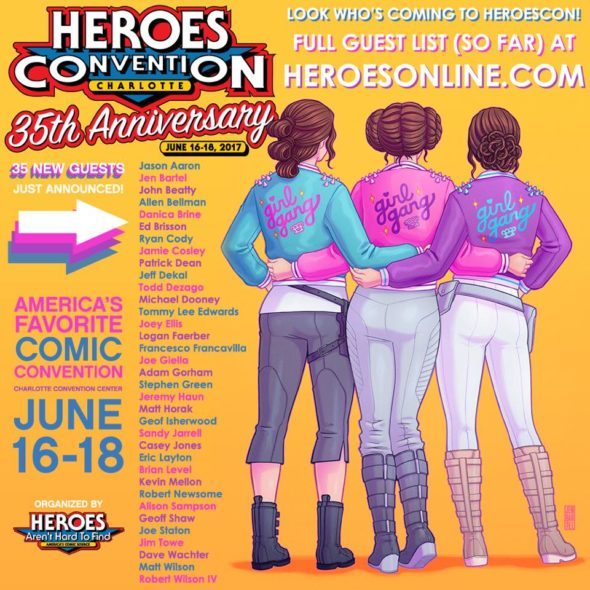 HeroesCon has announced more new guests for their 35th anniversary show including Jason Aaron, Todd Dezago, Francesco Francavilla, Tommy Lee Edwards, and more! HeroesCon 2017 takes place June 16-18, 2017 at the Charlotte Convention Center.
JASON AARON | Southern Bastards, Star Wars, Scalped, Thor, Dr Strange
JEN BARTEL | Jem and the Holograms, Star Trek: Starfleet Academy
JOHN BEATTY | Secret Wars, Punisher, Batman, Thanos Quest
ALLEN BELLMAN | Golden Age artist for Timely, Marvel, Atlas
DANICA BRINE | Survivorland
ED BRISSON | Iron Fist, Bullseye, The Violent
RYAN CODY | Doc Unknown, Monstrous, The Phantom
JAMIE COSLEY | Cody the Cavalier
PATRICK DEAN | FLUKE, Big Deal Comics & Stories
JEFF DEKAL | Hulk, Journey Into Mystery, Avengers World, Shadowman
TODD DEZAGO | Tellos, Perhapanauts, Spider-Man
MICHAEL DOONEY | Teenage Mutant Ninja Turtles, Grimm Fairy Tales, Gizmo
TOMMY LEE EDWARDS | Mother Panic, Marvel 1985, The Question, Star Wars, Wolverine
JOEY ELLIS | Leaky Timbers
LOGAN FAERBER | Namwolf, Adventure Time, Bravest Warriors
FRANCESCO FRANCAVILLA | Afterlife with Archie, The Black Beetle, Detective Comics
JOE GIELLA | Batman, Green Lantern, Marvel's Strength & Fitness & Superhero Cook Book
ADAM GORHAM | The Violent, Teenage Mutant Ninja Turtles
STEPHEN GREEN | BPRD, The Legacy of Luther Strode, Dark Horse Presents
JEREMY HAUN | The Beauty, Batwoman, Bad Karma, The Darkness
MATT HORAK | Punisher, Octo Skull
GEOF ISHERWOOD | Conan, Dr. Strange, Suicide Squad, Namor
SANDY JARRELL | Reggie and Me, DC Bombshells, Black Canary
CASEY JONES | Fantastic Four, Exiles, Excalibur, New Warriors
ERIC LAYTON | Blood Blister, the Remaining, Grim Ghost
BRIAN LEVEL | The Mantle, Constantine
KEVIN MELLON | Archer, Suicide Sisters, Heart, Lovestruck
ROBERT NEWSOME | Atomic Elbow, FLUKE
GEOFF SHAW | God Country, Buzzkill, The Paybacks
JOE STATON | Green Lantern, E-Man, Dick Tracy, Scooby Doo
JIM TOWE | Youngblood
DAVE WACHTER | Breath of Bones, The Guns of Shadow Valley, Godzilla: Cataclysm
MATT WILSON | The Wicked + The Divine, Daredevil, Paper Girls, Black Widow
ROBERT WILSON IV | Bitch Planet, Laser Joan, Knuckleheads
RENEE WITTERSTAETTER | Excess: The Art of Michael Golden, Joe Jusko: Savage Beauty
RSVP on the Facebook event page!
For the most up-to-date information, check our blog, or sign up for the weekly Heroes Hotline newsletter. You can also follow us on Twitter and Facebook!
BUYING AN ADVANCE PASS MEANS YOU'LL GET ANY ADVANCE INCENTIVES WE OFFER, FREE!
ENTRY WILL BE $25: FRI $25: SAT $20: SUN / AT THE SHOW ITSELF, SO YOU SAVE AS MUCH AS $20 BY PURCHASING ADVANCE PASSES TODAY! TICKETS ARE NOT REFUNDABLE, UNDER CERTAIN CIRCUMSTANCES WE MAY CREDIT AN UNUSABLE TICKET TOWARD FUTURE TICKET PURCHASES.
HEROES CONVENTION was founded in 1982 by Shelton Drum, owner of Charlotte's Heroes Aren't Hard To Find comics shop. Since then the convention has become famous for its comics-first and family-friendly atmosphere, where fans can mingle directly with professionals and exhibitors. Boasting an incredible guest list built mainly on reputation and goodwill, HeroesCon is known nationwide as a "must" on the summer schedule, drawing fans, exhibitors, and creators from all over the world to the Charlotte Convention Center.