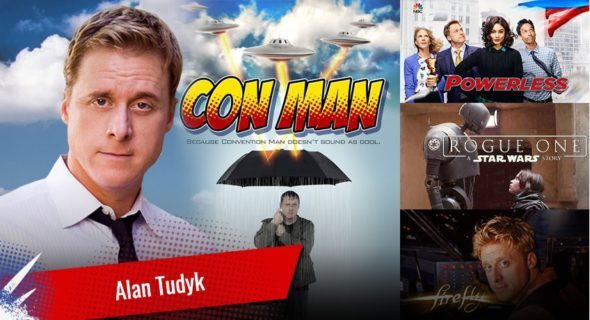 Press Release:
The Great Philadelphia Comic Con adds Alan Tudyk to their guest roster for the convention on Saturday April 8th and Sunday April 9, 2017.
Tudyk's credits cross film, TV, voice acting, and stage work. He is the creator and star of the webseries Con Man for which he also co-wrote the accompanying comic book Spectrum. In the early 2000s, he starred in the short-lived, though passionately loved, TV show Firefly. Created by Joss Whedon, the show combined elements of sci-fi in space with cowboys in the Old West. Most recently he played the scene stealing security droid K-2SO in Rogue One: A Star Wars Story. He also voices characters in several Disney animated films, including Frozen, Wreck-It Ralph, Big Hero 6, Zootopia, and Moana.
Tudyk currently stars as Van Wayne, head of Wayne Security, in NBC's new workplace comedy "Powerless," opposite Vanessa Hudgens. "Powerless" is the first comedy series set in the universe of DC Comics, where the story follows the reality of working life for a normal, powerless person in a world of superheroes and villains
He's joining fellow media stars Angus Macinnes (Judge Dredd), David Ankrum (voice A New Hope), Alan Harris (Empire Strikes Back), Sean Schemmel and Mike McFarland (voice Dragonball Z), Veronica Taylor (Sailor Moon), Marina Sirtis (Star Trek: The Next Generation), Bruce Boxleitner (Tron), John Wesley Shipp (The Flash), and Karan Ashley and Walter Jones (Mighty Morphin Power Rangers).
Comics guests include Neal Adams (Superman), Mike Zeck (The Amazing Spider-Man), Jim Shooter (Secret Wars), Michael Golden (Doctor Strange), Ty Templeton (Batman '66), Chriscross (Unity), and Graham Nolan (Detective Comics).
Visit www.philadelphiacomiccon.com for further information and tickets! RSVP on Facebook!