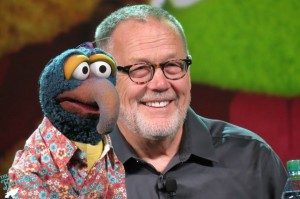 Muppeteer Dave Goelz (The Great Gonzo) appears at the Walt Disney Family Museum on Monday, December 12, 2016.
Press Release:
In the spirit of holiday traditions, join us for a special screening of The Muppet Christmas Carol. In this highly-acclaimed film, The Muppets tell their delightfully charming version of the classic holiday tale written by 19th century novelist Charles Dickens. Following the screening, take part in a discussion with Dave Goelz, who starred in the film as Gonzo the Great performing as Charles Dickens.
The film will be screened at 6:30pm prior to the program. Admission to the film screening is included with the program ticket. Tickets available at the link…
About Dave Goelz
Dave Goelz has been a principal puppeteer with The Muppets for forty-three years. His characters include The Great Gonzo, Bunsen Honeydew, Zoot, Beauregard, and Waldorf from The Muppet Show; Boober Fraggle, Traveling Matt, and Philo the Rodentia from Fraggle Rock; Digit from The Jim Henson Hour; Rugby and Ditz from Jim Henson's Secret Life of Toys; Stinky the Skunk from Jim Henson's Animal Show with Stinky and Jake; and Randy the Stupid Pig and Gary Cahuenga the Vent Dummy from Muppets Tonight!
Goelz first started working for Henson Associates in 1973 as a puppet designer and builder and periodically had the opportunity to perform. The first highly-successful characters that he built were Animal, Zoot, and Floyd Pepper. Despite the fact that he had no formal training for puppeteering, he went on to perform as Zoot, the blue-haired saxophone player from The Muppet Show's house band, Dr. Teeth and the Electric Mayhem. He eventually stopped building puppets and worked exclusively as a performer.
Walt Disney Family Museum
104 Montgomery Street, San Francisco, CA 94129
415.345.6800