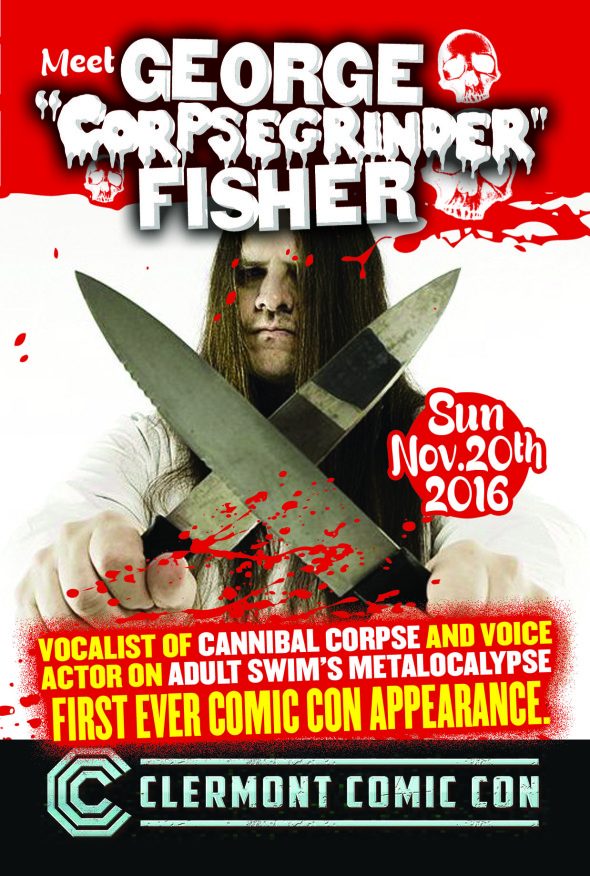 George "Corpsegrinder" Fisher makes con debut at Clermont Comic Con
George "Corpsegrinder" Fisher is an American extreme metal vocalist for the American death metal band Cannibal Corpse and the lesser-known melodic death metal band Paths of Possession. He previously recorded two albums with Florida's Monstrosity before leaving and joining Cannibal Corpse in late 1995, replacing former vocalist, Chris Barnes, who is now the vocalist for Six Feet Under. He also provided guest vocals for New York technical death metal band Suffocation on the songs "Reincremation" and "Mass Obliteration" from their debut album, Effigy of the Forgotten, as well as guest vocals for California deathcore band Suicide Silence, on the song "Control" from their fourth album, You Can't Stop Me. Fisher also performed guest vocals on Job for a Cowboy's 2014 album Sun Eater, on the song "The Synthetic Sea". As a death metal vocalist, Fisher employs the "death growl" extended vocal technique.
Fisher voices the Metal Masked Assassin in the Adult Swim animated series Metalocalypse which airs at midnight on the Cartoon Network. He was also the inspiration for the character Nathan Explosion, the lead vocalist for Dethklok. Nathan shares a similar physical appearance to George, headbangs in a windmill fashion, and also lived in Florida, although Fisher was born in Baltimore and moved to Florida later in life.
Blizzard Entertainment implemented a non-player character named "Gorge the Corpsegrinder" into World of Warcraft: Wrath of the Lich King after his interest in the game was revealed in interviews. George was invited on stage and performed at Blizzcon 2011 with Level 90 Elite Tauren Chieftain. He was also seen attending the Convention as a participant.
For more information on Clermont Comic Con visit HERE!