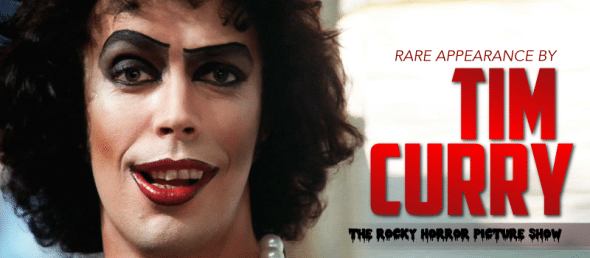 The legendary Tim Curry will be joining us for a rare appearance!
Tim Curry is an English actor, voice actor and singer, known for his work in a diverse range of theatre, film and television productions, often portraying villainous roles or character parts. Curry first rose to prominence with his portrayal of Dr Frank-N-Furter in the 1975 cult film The Rocky Horror Picture Show, reprising the role he had originated in the 1973 London and 1974 Los Angeles stage productions of The Rocky Horror Show.
His other stage roles include Wolfgang Amadeus Mozart in the 1980 Broadway production of Amadeus, The Pirate King in the 1982 West End production of The Pirates of Penzance, Alan Swann in the Broadway production of My Favourite Year and King Arthur in Broadway and West End productions of Spamalot from 2005 to 2007.
Curry garnered further acclaim for his film and television roles; as Rooster Hannigan in the 1982 film adaptation of Annie, as Darkness in the fantasy film Legend, as Wadsworth in the mystery comedy film Clue, as Pennywise in the horror miniseries It and as Nigel Thornberry on the animated television series The Wild Thornberrys.
More details to come: MegaConOrlando.com/