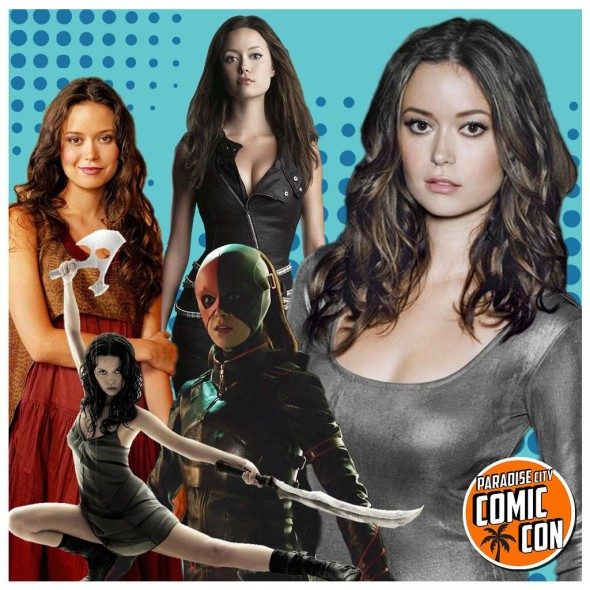 Summer Glau has just been announced as a guest for PARADISE CITY COMIC CON on December 9, 10, & 11 at The Greater Fort Lauderdale Convention Center
 Summer Glau is best known for for her iconic roles as River Tam in Joss Whedon's TV series Firefly and the feature film, Serenity and Cameron Philips in Terminator: The Sarah Connor Chronicles. She has recently had a featured role on The CW's Arrow as Isabel (Ravager). Use PROMO CODE: "SPIKE" to save $10 OFF Three Day Weekend Passes and PROMO CODE: "RIVER" to save $5 OFF single day and 2 Day Tickets! These promo codes are valid until Monday Oct. 31 @ 11:59pm. Over 100 celebrity guests, voice actors, comic book creators, entertainment guests, and cosplay stars will be in attendance.
Summer Glau got her start in Joss Whedon's much acclaimed TV series Angel playing a cursed Prima Ballerina in the 2002 episode "Waiting in the wings". Contributing to her Sci Fi credits were roles in USA's The 4400 as Tess, Joss Whedon's Dollhouse as Echo's long lost nemesis, Bennet Halverson, NBC's The Cape as Orwell, an investigative blogger who teams up with Vince/The Cape in order to fight crime and restore justice, and guest appearances on Alphas as Skylar. Summer has also starred in the the films Deadly Honeymoon, and The Legend of Hells Gate: An America Conspiracy. She has made guest appearances on TV in The Big Bang Theory, Chuck, Hawaii 5-0, and NTSF:SD:SUV.
Paradise City Comic Con is 3 days of fun featuring celebrity guests, comic book creators, voice actors, industry guests, cosplayers, artists, writers, panels, Q&A's, films & shorts, costume & cosplay contests, vendors, parties, anime, workshops, video gaming and more! There will be multiple costume and cosplay events each day of the show, with thousands of dollars in cash and prizes on the line!
The guest list is growing weekly, and some of the highlights include:
* Star Wars Cast Members: Billy Dee Williams "LANDO CALRISSIAN", Paul Blake "GREEDO", Garrick Hagon "BIGGS DARKLIGHTER", and Brian Herring "BB-8".
* Star Trek Voyager Cast Members: Tim Russ "Tuvok and Ethan Phillips "Neelix".
* TV and Movie Stars: Summer Glau (Firefly, Serenity, Terminator, Dollhouse), James Marsters (Spike in Buffy The Vampire Slayer, Brainiac in Smallville, Captain John Hart in Torchwood), Tara Reid (Sharknado, American Pie), Manu Bennett (Crixus in Spartacus, Slade Wilson / Deathstroke in Arrow, Azog, king of the Orcs in The Hobbit trilogy, Allanon in The Shannara Chronicles), Dante Basco (Hook), and Sam Jones (Flash Gordon).
* Comic Book Creators: STERANKO, George Perez, Neal Adams, Roy Thomas, David Finch, Bob Layton, Mark Bagley, Allen Bellman, Jeff Dekal, Jose Delbo, Mike Grell, Pia Guerra, Amy Mebberson, Moritat, Robbi Rodriguez, Tim Seeley, James Silvani, Ryan Stegman, Buzz, John Beatty, Ralph Cabrera, and more!
* Horror Legends and Icons: Ricou Browning (Creature From the Black Lagoon), Lloyd Kaufman (Troma Films founder, creator of The Toxic Avenger), and Basil Gogos (Legendary Horror Artist for Famous Monsters of Filmland, Creepy, Eerie).
* RWBY Stars: Arryn Zech (Blake Belladonna), Kara Eberle (Weiss Schnee), and Elizabeth Maxwell (Winter Schnee).
* Animation Stars: Tad Stones (Creator of Darkwing Duck), Dana Snyder (Aqua Teen Hunger Force, Lego Star Wars, Squidbillies), Lori Alan (Family Guy), Dante Basco (Avatar: The Last Airbender), Rikki Simons (Invader Zim), Rodger Bumpass (SpongeBob Squarepants, Invader Zim), and Melissa Fahn (Invader Zim).
* Anime Stars: Vic Mignogna (Fullmetal Alchemist, Dragon Ball Z, Ouran High School Host Club, Attack on Titan, Free! Eternal Summer), Beau Billingslea (Cowboy Bebop, Naruto), Leah Clark (Negima, Suzuka, Toriko, Sgt Frog, Soul Eater), Melissa Fahn (Cowboy Bebop, Digimon Tamers, FLCL), Brittney Karbowski (Soul Eater, Fullmetal Alchemist: Brotherhood, High School of the Dead), and Elizabeth Maxwell (Attack on Titan, Noragami, Fairy Tail).
* Power Ranger Cast Members: Cerina Vincent, Nakia Burrise, and Catherine Sutherland.
* NSYNC members: Joey Fatone and Chris Kirkpatrick.
* Star Trek Continues Cast Members: Vic Mignogna (Captain Kirk), Chris Doohan (Scotty), and Michele Spect (Dr. Elise McKennah).
* Pete & Pete Stars: Mike Maronna and Danny Tamberelli.
* Cosplay Stars Stella Chuu, Kiki Kannon, Rage Kitten, Amy Nicole Cosplay, BriannaBlackfire, Handsome Jordan, Harley's love shack, MiaAckerman Cosplay, Sandmuffin Makeup, SkyCosplays, Haiden Hazard, Cameo Olyvia, and WavvyPrincess
Check out our Facebook event page at https://www.facebook.com/events/1711986075684941/ and RSVP to let us know you're coming!