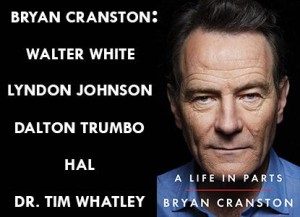 Bryan Cranston (Breaking Bad, Malcolm in the Middle) appears to speak about his new memoir A Life in Parts at the Uptown Theater on Friday, October 21, 2016 at 8:00 PM. Details and tickets available at the link…
ABOUT THE AUTHOR: Bryan Cranston won four Emmy Awards for Outstanding Lead Actor in a Drama Series for his portrayal of Walter White in AMC's Breaking Bad. He holds the honor of being the first actor in a cable series, and the second lead actor in the history of the Emmy Awards, to receive three consecutive wins. In 2014 he won a Tony Award for his role as Lyndon B. Johnson in the bio-play All the Way. In film, Cranston has won two Screen Actors Guild Awards and received an Academy Award nomination for his leading role in Trumbo. Among his numerous television and film appearances, he was nominated for a Golden Globe and three Emmys for his portrayal of Hal in FOX's Malcolm in the Middle. He is the author of A Life in Parts.
ABOUT THE NEW BOOK: In his riveting memoir, A Life in Parts, Bryan Cranston traces his zigzag journey from his chaotic childhood to mega stardom by vividly revisiting the many parts he's played, on camera (astronaut, dentist, detective, candy bar spokesperson, President of the United States, etc.) and off (paperboy, farmhand, security guard, dating consultant, murder suspect, dock loader, son, brother, lover, husband, father).
With great humor, and much humility, Cranston chronicles his unlikely rise from a soap opera regular, trying to learn the ropes and the politics of show business on the fly, to a recurring spot as Tim Whatley on Seinfeld, finding himself an indelible part of popular culture. He recalls his run as the well-meaning goofball, Hal, on Malcolm in the Middle, proving to writers and fans that he was willing to do anything, anything, for a laugh, and he gives a bracing account of his challenging run on Broadway as President Lyndon Johnson, pushing himself to the limit as he prepared, physically and mentally, for a tour de force that would win him a Tony, to go along with his four Emmys.
Of course, Cranston dives deep into the grittiest, most fascinating details of his greatest role, explaining how he searched inward for the personal darkness that would help him create one of the most captivating performances ever captured on screen: Walter White, chemistry teacher turned drug kingpin. Discussing his failures as few men do, describing his work as few actors can, Cranston has much to say about innate talent, its benefits, challenges, and proper maintenance, but ultimately A Life in Parts is about the necessity and transformative power of hard work.
Uptown Theater
3700 Broadway Street, Kansas City, Missouri 64111