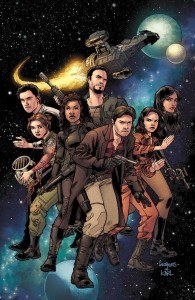 Artist Georges Jeanty appears at at Tate's Comics HQ on Wednesday, October 26th from 7:00 – 8:30 PM to sign his latest creation in the Whedonverse! Georges artwork on Buffy and Serenity from Dark Horse Comics has always been exceptional. He has also worked on X-Men, Batman, Deadpool, and other big names, as well. This is something you do not want to miss!
New Serenity title releasing the day of the signing!
SERENITY: NO POWER IN THE 'VERSE #1 from Dark Horse Comics
Chris Roberson Writer / Georges Jeanty Artist & Variant Cover
Serenity: No Power in the 'Verse is a spin-off from Joss Whedon's beloved cult classic sci-fi series, Firefly. "No Power in the "Verse" takes place a year and a half after the last Serenity comic series, "Leaves on the Wind. For any Joss Whedon fan this is a must read!
Tate's Comics
4566 N. University Drive, Lauderhill, FL 33351
954-748-0181