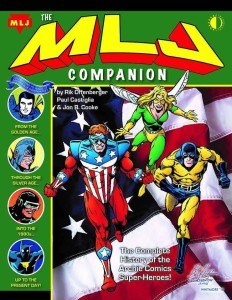 Paul Castiglia and Glenn Whitmore appear at East Side Mags from 1pm-4pm on Sunday, October 16th to sign copies of their new release – MLJ Companion.
The MLJ Companion documents the complete history of Archie Comics' super-hero characters known as the "Mighty Crusaders" – The Shield, Black Hood, Steel Sterling, Hangman, Mr. Justice, The Fly, and many others. It features in-depth examinations of each era of the characters' extensive history: The Golden Age (beginning with the Shield, the first patriotic super-hero, who pre-dated Captain America by a full year), the Silver Age (spotlighting those offbeat, campy Mighty Comics issues, and The Fly and Jaguar), the Bronze Age (with the Red Circle line, and the !mpact imprint published by DC Comics), up to the Modern Age, with its Dark Circle imprint (featuring such fan-favorites series as "The Fox" by Mark Waid and Dean Haspiel). Plus: Learn what "MLJ" stands for! Uncover such rarities as the Mighty Crusaders board game, and the Shadow's short-lived career as a spandex-clad superhero!
Paul Castiglia has written, edited and promoted comics for such diverse publishers as Archie, DC, Dark Horse, Event, Antarctic Press and others. His credits include Archie's Weird Mysteries, DC Showcase, Teenage Mutant Ninja Turtles, Tex Avery comics, Sonic the Hedgehog, Rise: Comics Against Bullying from and War of the Independents #4. Coming soon is a back-up story for KING, from Blacklist Press. Paul is also a film historian who speaks at classic film screenings, and a movie producer whose first film, Bowery Rhapsody, a documentary about the Dead End Kids, East Side Kids and Bowery Boys is currently in post-production. Also upcoming from Paul is the book Scared Silly – a compendium of reviews of classic horror-comedy movies. Paul will be signing copies of the TwoMorrows Publishing book, The MLJ Companion, co-written with Rik Offenberger and Jon B. Cooke, which charts the history of Archie's superheroes, and includes a cover by colored by Glenn Whitmore.
Glenn Whitmore is a graduate of the Kubert School (1987) and has established himself as a reliable professional colorist in the comics business. His first assignment was DC Comics' Hawk & Dove mini-series. Soon after, he became the colorist on the Superman titles between 1988 and 2000 including The Death of Superman, The Return of Superman, The Marriage of Superman & Lois Lane as well as other DC titles like Flash, Justice Society and Power of Shazam.
East Side Mags
7 S Fullerton Ave, Montclair, NJ 07042
(862) 333-4961