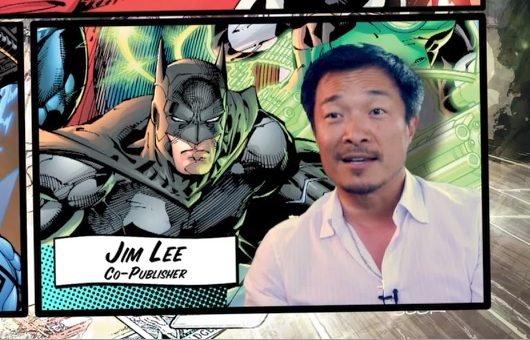 Comics superstar JIM LEE signs at Vroman's Bookstore on Saturday September 17, 2016 at 5:00 PM to celebrate BATMAN DAY!
Fans MUST purchase a copy of either Batman: Europa OR Harley Quinn's Greatest Hits from Vroman's Bookstore in order to receive a signing line ticket.With purchase of Batman: Europa OR Harley Quinn's Greatest Hits fans may get a maximum of 2 other items signed.
The signing line will be limited to 150 fans ONLY due to Jim Lee's busy schedule. Our Will Call department will be handling all purchases of Batman: Europa OR Harley Quinn's Greatest Hits for the signing. NO PRE-ORDERS OR ONLINE ORDERS WILL BE ACCEPTED FOR THIS EVENT. Customers must make your purchase at our Will Call window or over the phone to receive a ticket to be in the signing line on September 17. Books and tickets will be available starting on Wednesday, September 7. * The signing will begin promptly at 5pm and end at 6:30pm.
Jim Lee, a world-renowned comic book artist, writer, editor and publisher, is now currently the Co-Publisher of DC Entertainment (DCE) alongside Dan DiDio.
Known for his incredibly detailed and dynamic artistic style, Lee is one of the most revered and respected artists in American comics. A veritable legend in the industry, he has received numerous accolades and recognition for his work, including the Harvey Special Award for New Talent in 1990, the Inkpot Award in 1992, and the Wizard Fan Award in 1996, 2002 and 2003. Prior to his current post at DCE, Lee served as Editorial Director, where he oversaw WildStorm Studios and was also the artist for many of DC Comics' bestselling comic books and graphic novels, including ALL STAR BATMAN AND ROBIN, THE BOY WONDER, BATMAN: HUSH, and SUPERMAN: FOR TOMORROW. He also serves as the Executive Creative Director for the DC Universe Online (DCUO) massively multiplayer action game from Sony Online Entertainment (SOE).
In 1992, he started his own production company, WildStorm Productions, and co-founded Image Comics, an independent comics company that quickly grew to become the third largest North American publisher. (DC Comics)
Vroman's Bookstore
695 E. Colorado Blvd Pasadena, CA 91101
(626) 449-5320