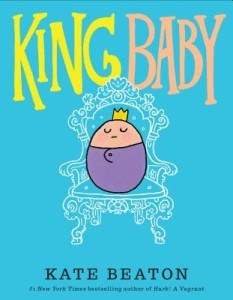 Author/Illustrator Kate Beaton appears at Anderson's Bookshop on Wednesday, September 21, 2016 at 7:00 PM!
All hail King Baby! He greets his adoring public with giggles and wiggles and coos, posing for photos and allowing hugs and kisses. But this royal ruler also has many demands, and when his subjects can't quite keep up, King Baby takes matters into his own tiny hands.
Created by Kate Beaton, author of The Princess and the Pony and #1 New York Times bestsellers Hark A Vagrant and Step Aside, Pops, this modern, funny, and (let's be honest) realistic take on life with a new baby is the perfect gift for anyone with an adorable little monarch in their world.
EVENT DETAILS
This event is free and open to the public.  To join the signing line, please purchase the author's new book, King Baby, from Anderson's by stopping into our La Grange location, calling (708) 582-6353, or clicking the link below.
Anderson's Bookshop
26 S La Grange Road, La Grange IL 60525
(708) 582-6353