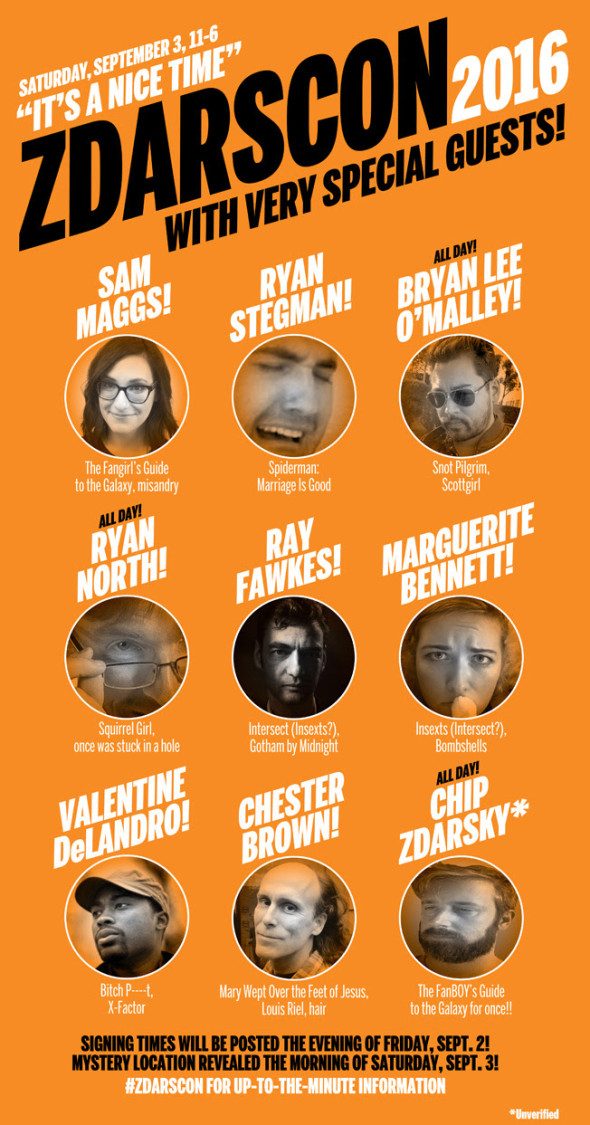 Press Release:
The Beguiling features on Saturday, September 3rd, 11am-6pm Marguerite Bennett, Chester Brown, Valentine DeLandro, Ray Fawkes, Sam Maggs, Ryan North, Bryan Lee O'Malley, Ryan Stegman! And also Chip Zdarsky. Secret Location TBA
Press Release:
It's happening again! #ZDARSCON is the official comic book event of Chip Zdarsky, but this time he's bringing some special pals to the event! You have no idea what to expect, even if you went last time, because this is nothing like last time or anytime for that matter.
Details will be announced in the #ZDARSCON tag on Twitter on Saturday morning (Follow @zdarsky @thebeguiling & #zdarscon on Twitter for deets), and on the Facebook event page.
#ZDARSCON Facts:
#ZDARSCON is an experience. But, sadly, it will be an experience which lasts for roughly 5-10 minutes per person. Do not travel to Toronto JUST for #ZDARSCON. Just trust Chip on this one.
#ZDARSCON will be located within 5-10 minutes walking of the Metro Toronto Convention Centre, where we presume nothing related is going on this weekend. Maybe the gift show? Anyway.
#ZDARSCON will announce the MYSTERY LOCATION the morning of! And the signing schedule the night before!
#ZDARSCON will have a selection of books and products from all participating creators available for purchase at the event itself, on the off chance you didn't get up

Saturday

morning and lug a box of books downtown.
#ZDARSCON will be a very nice time.