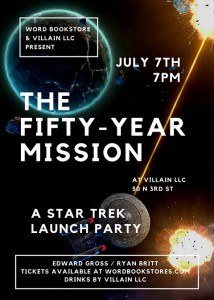 Press Release:
Join WORD and Villain LLC on Thursday, July 7th, at 7:00 PM for a Star Trek Launch Party to celebrate the release of Ed Gross's THE FIFTY-YEAR MISSION: The Complete, Uncensored, Unauthorized Oral History of Star Trek: The First 25 Years.
Come out to Williamsburg to sip on some Romulan Ale, or raise a glass of Klingon Blood Wine (cocktails hand-crafted by Villain bartenders) and learn everything you could possibly know about the history of the Star Trek franchise, the inner-workings of producing the show, and the long-lasting cultural impact of Star Trek.
Enterprise to all Trekkies, media geeks, or just plain TV fans: Let's have a party!
Ed Gross will be joined in conversation by science fiction critic Ryan Britt, author of LUKE SKYWALKER CAN'T READ: And Other Geeky Truths.
Tickets available at the link…
TICKET TIER 1: A $5 ticket/gift card (redeemable as a $5 credit against Ed Gross's book the evening of the event)
TICKET TIER 2: Preorder the book as ticket for $29.99! Each $29.99 "ticket" below will guarantee entry to the event as well as a copy of Ed Gross's book. This ticket tier also guarantees reserved seating at the event as well as the opportunity to be the first group to enter the signing line.
ABOUT THE BOOK: This is the unauthorized, uncensored and unbelievable true story behind the making of a pop culture phenomenon. The original Star Trek series debuted in 1966 and has spawned five TV series spin-offs and a dozen feature films, with an upcoming one from Paramount arriving in 2016. THE FIFTY-YEAR MISSION is a no-holds-barred oral history of five decades of Star Trek, told by the people who were there. Hear from the hundreds of television and film executives, programmers, writers, creators and cast as they unveil the oftentimes shocking story of Star Trek's ongoing fifty-year mission -a mission that has spanned from the classic series to the animated show, the many attempts at a relaunch through the beloved feature films. Make no mistake, this isn't just a book for Star Trek fans. Here is a volume for all fans of pop culture and anyone interested in the nuts and bolts of a television touchstone.
EDWARD GROSS has an extensive history of covering film and television as a member of the editorial staff of a wide variety of magazines, including CINESCAPE, STARLOG, CINEFANTASTIQUE, SFX, FEMME FATALES, MOVIE MAGIC, LIFE STORY and SCI-FI NOW. He has written numerous non-fiction books and, along with THE FIFTY-YEAR MISSION co-author Mark Altman, has written more about Star Trek over the past 35 years than just about anyone else.
RYAN BRITT has written for the New York Times, Electric Literature, the Awl, and Clarkesworld Magazine, and he is a consulting editor for Story Magazine. He was the staff writer for the Hugo Award-winning web magazine Tor.com, where he remains a contributor. He lives in New York City.
Villain LLC
50 N 3rd Street, Brooklyn, NY 11249
(718) 782-2222