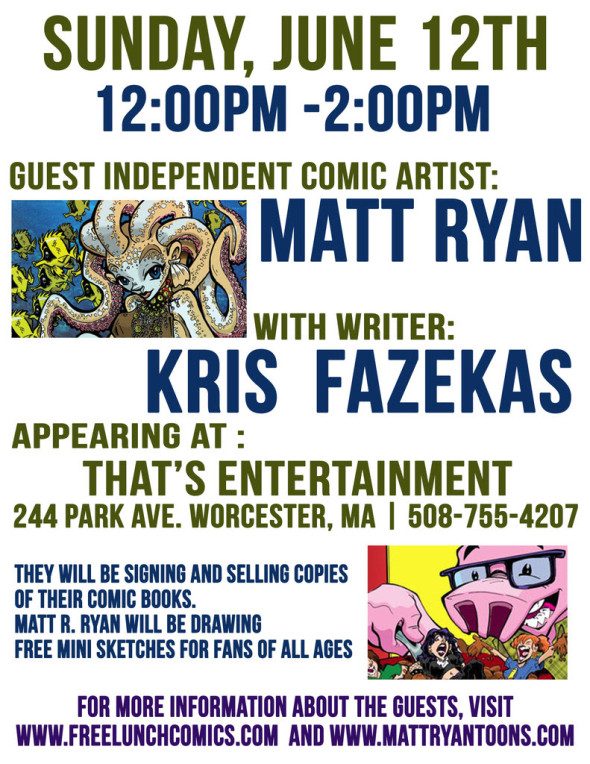 Press Release:
Connecticut based indie comic artist Matt R. Ryan with writer Kris Fazekas will be at That's Entertainment, located at 244 Park Ave in Worcester, MA, on Sunday, June 12th from 12:00 p.m. to 2:00 p.m. to sign purchased copies of comics they have created. Matt Ryan will be drawing free mini sketches for folks of all ages upon request. Aspiring artists and comic enthusiasts will have the opportunity to interview the guests on their work and experience as independent creators.
Matt R. Ryan is the owner of Free Lunch Comics and Free Lunch Studios. He has created and published a variety of comics for all audiences. Food Fight is one of his most popular all-ages title that features kooky characters that bring us back to the zany cartoons of yesteryear. Bigger was Ryan's first published work which is a romantic comedy for mature readers. All these books and many more will be available to purchase from the artist.
Sitting beside Matt Ryan will be writer and comic creator Kris Fazekas, Ryan's creative sidekick, who will be signing copies of his recent publication The Last. The science fiction adventure illustrated by Matt R. Ryan and written by Fazekas himself, made its debut on Free Comic Book Day. It is the first publication to be released under Symple Comics, Fazeka's own publishing company. He will have the first issue and the variant issues available for purchase at the table.
That's Entertainment, located at the corner of Lois Lane and Park Ave. in Worcester, MA, is a pop culture emporium which specializes in everyone's "geek." Checkout their wide variety of comics, vinyl records, vintage and modern video games and systems, anime, collectible card games, role-playing games, board games, sports cards, memorabilia, toys, posters, and so much more! Come and celebrate their 36th year of business by visiting with friends and family. For more information, contact Sorana at sorana@thatse.com or call 508-755-4207. That's Entertainment. 244 Park Ave. Worcester, MA 01609 |www.thatse.com. For more information about Free Lunch Comics, visit www.freelunchcomics.com.
That's Entertainment
244 Park Ave, Worcester, MA 01609
(508) 755-4207