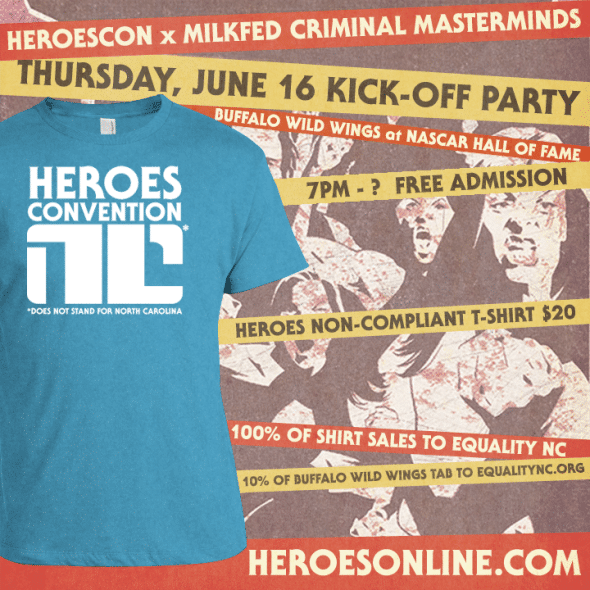 HeroesCon hosts a Kick-Off Party / Milkfed Criminal Masterminds Art Show at Buffalo Wild Wings on Thursday, June 16 from 7:00 PM till midnight! 100% of the sales of this limited edition Non-Compliant "Bitch Planet" inspired T-Shirt, along with 10% of the total sales of food and drink at Buffalo Wild Wings, will be donated to Equality NC to encourage tolerance and change in our government and society!
If you're planning to attend HeroesCon, be sure to stop by Buffalo Wild Wings on Thursday night and help make a difference!
This design will also be available as a "print-on-demand" Indie Island shirt at Fine Print Shoppe Booths 1010/1109 throughout the convention. You can bring your own shirt, tank top or bag and have it screen-printed, or you can purchase one on site. HeroesCon will donate all the proceeds from the sale of "Non-Compliant" print-on-demand items to Equality NC as well!
Also Casanova co-creators Matt Fraction, Gabriel Bá, and Fàbio Moon will be on hand to celebrate the comic's tenth anniversary with an exhibition of original artwork and live art!
Buffalo Wild Wings – Nascar Hall of Fame
400 E Martin Luther King Jr. Blvd, Charlotte NC 28202
(704) 971-9464