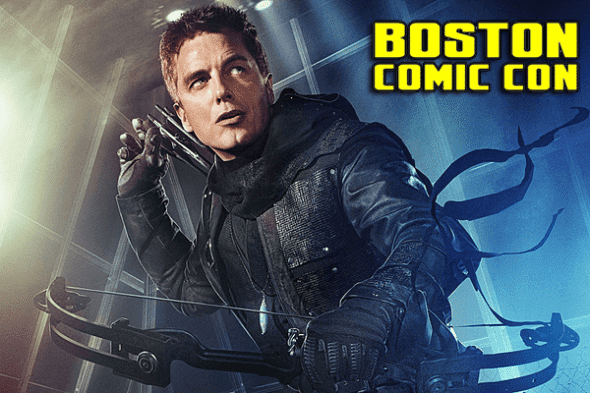 Press Release:
Boston Comic Con is excited to welcome back one of our most popular guests JOHN BARROWMAN on August 13-14th!
He currently appears as the villainous Malcolm Merlyn on CW's megahit series Arrow. And Doctor Who fans will best know John as Captain Jack Harkness, a companion to the Ninth Doctor who proved so popular he received his own spinoff series, Torchwood! Additionally he has appeared on television in Scandal and Desperate Housewives as well as films including Zero Dark Thirty, De-Lovely, and The Producers. Titan Comics has just announced John will be the co-writer of the new Torchwood comic series debuting in July!
John joins our other stars from CW's DC Universe shows – Caity Lotz and Ciara Renee from Legends of Tomorrow and Robbie Amell from The Flash.  John will be appearing on Saturday, August 13 and Sunday, August 14. Full media guest list at the link…
Boston Comic Con 2016 tickets are on-sale now at the link!
About Boston Comic Con:
The Boston Comic Con is a 100% independently run comic book show committed to bringing the biggest and best comic creators to New England. Run by fans for fans, Boston Comic Con is not affiliated with any other convention tour or corporate interests. Hosting over 120,000 square feet of vendors selling comic books, toys, posters, trading cards, and other pop culture memorabilia, this is a destination event for geeks of any stripe. This year's convention will be held Friday August 12th, Saturday August 13th, and Sunday August 14th at the Seaport World Trade Center, 200 Seaport Blvd, Boston, MA 02210. For more information please go to our website at www.bostoncomiccon.com and follow us on Twitter (@BostonComicCon) and Facebook!