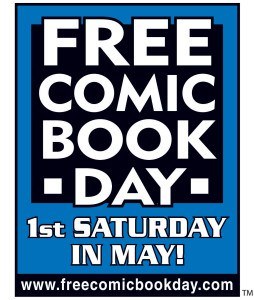 Press Release:
Free Comic Book Day 2016 is this Saturday May 7th at Cards, Comics & Collectibles – Baltimore County's Premiere Comic Book Store and the Official News Source of the Baltimore Comic-Con! You don't want to miss our amazing guests, giveaways, events, and FREE COMICS!
The full-day event kicks off with an awesome line-up of creators appearing at the store! Mark Morales, Matt Slay, and Steve Conley will be all signing autographs at the store throughout the day.
Mark Morales has established himself as one of the industry's go-to inkers for major titles and events for the big publishers. He has inked a vast number of titles at Marvel Comics including, among many others, A+X, Amazing Spider-Man, Avengers vs. X-Men, New Avengers, Secret Invasion, Sentry, Siege, Spider-Man/Deadpool, Thor, Uncanny X-Men, Wolverine, X-Force, and X-Men. He has also done work for DC Comics on titles like Action Comics, Batman/Superman, JLA, New Suicide Squad, Prez, and Superman: The Man of Steel. He was also awarded the Harvey Award for Best Inker in 2009 and 2011.
Matt Slay has contributed to the TMNT/Ghostbusters crossover and the Teenage Mutant Ninja Turtles Micro Series: Leonardo. You can find his work gracing countless trading cards for Image, Cryptozoic, and Marvel, and more recently on covers from American Mythology Productions' Equilibrium.
Award-winning designer, illustrator, and cartoonist Steve Conley has worked on such notable comics as Star Trek: Year Four (IDW), Michael Chabon's Amazing Adventures of the Escapist (Dark Horse Comics), JLA-Z (DC Comics), and Mighty Morphin Power Rangers (BOOM! Studios). Conley, who is also the creator of Astounding Space Thrills and the all-ages series Bloop (www.bloopstree.com), will be signing and sketching all day.
"We love giving away comics on Free Comic Book Day," said Marc Nathan, owner of Cards, Comics & Collectibles. "It's such a fantastic opportunity for the industry, where everyone walking in the store walks out with a comic, whether they're a regular or just starting to read comics. We are delighted to host Mark, Matt, and Steve for this year's signing, and the free comics we'll be giving away are fantastic!"
Besides giving away free comic books, the store will have free Baltimore Comic-Con t-shirts to give away as well, and will offer 50% off modern and bronze age back issues, trade paperbacks, and hardcovers.
Join us on Saturday, May 7, 2016 as events kick off at 10:00am with store signings and, of course, FREE COMICS!
Cards, Comics & Collectibles is located at 100A Chartley Drive, Reisterstown, MD. For more information, please visit cardscomicscollectibles.com, our Facebook page, or call 410-526-7410.