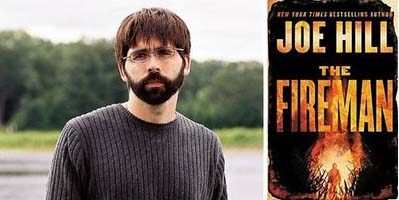 JOE HILL (Locke & Key, Horns) appears at Changing Hands Bookstore on Tuesday, May 24th at 7:00 PM! Get tickets at the link…
Press Release:
The award-winning New York Times bestselling author of NOS4A2 and Heart-Shaped Box presents his new chilling novel about a worldwide pandemic of spontaneous combustion.
ABOUT THE BOOK
A terrifying new plague is spreading like wildfire across the country, striking cities one by one. The doctors call it Draco Incendia Trychophyton. To everyone else it's Dragonscale, a highly contagious, deadly spore that marks its hosts with beautiful black and gold marks across their bodies — before causing them to burst into flames. Millions are infected; blazes erupt everywhere. There is no antidote. No one is safe.
Harper Grayson, a compassionate, dedicated nurse, treated hundreds of infected patients before her hospital burned to the ground. Now she's discovered the telltale gold-flecked marks on her skin. When the outbreak first began, she and her husband, Jakob, had made a pact: they would take matters into their own hands if they became infected. To Jakob's dismay, Harper wants to live — at least until the fetus she is carrying comes to term.
Convinced that his do-gooding wife has made him sick, Jakob becomes unhinged, and eventually abandons her as their placid New England community collapses in terror. The chaos gives rise to ruthless Cremation Squads — armed, self-appointed posses roaming the streets and woods to exterminate those who they believe carry the spore. But Harper isn't as alone as she fears: a mysterious and compelling stranger she briefly met at the hospital, a man in a dirty yellow fire fighter's jacket, carrying a hooked iron bar, straddles the abyss between insanity and death. Known as The Fireman, he strolls the ruins of New Hampshire, a madman afflicted with Dragonscale who has learned to control the fire within himself, using it as a shield to protect the hunted, and as a weapon to avenge the wronged.
In the desperate season to come, as the world burns out of control, Harper must learn the Fireman's secrets before her life — and that of her unborn child — goes up in smoke.
ABOUT THE AUTHOR
JOE HILL is the author of the critically acclaimed Heart-Shaped Box and Horns (which was adapted to film by Red Granite Pictures and stars Daniel Radcliffe) and writes an ongoing comic book series, Locke & Key. He is a two-time winner of the Bram Stoker Award and a past recipient of the Ray Bradbury Fellowship. His stories have appeared in a variety of journals and Year's Best collections. He calls New England home.
Changing Hands Bookstore
300 W Camelback Road, Phoenix, AZ 85013
602.274.0067