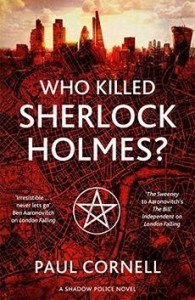 PAUL CORNELL will be signing WHO KILLED SHERLOCK HOLMES and THIS DAMNED BAND (TP) at the Forbidden Planet London Megastore on Thursday 19th May from 6:00 – 7:00 PM.
Who Killed Sherlock Holmes? is a great genre crossover injecting life into the crime procedural. Thrilling and gripping, and with a clever new twist on a much-loved character, this will appeal to a host of fans ranging from police procedurals to gothic, urban fantasy, to straight-up lovers of Sherlock and beyond. Quill and his team pursue a criminal genius, who lures them into a Sherlockian maze of too many clues and too much evidence, while also battling their own, and all too real, demons. It looks like the game is afoot…
And in This Damned Band, the biggest rock band in the world thought they were only pretending to worship Satan. As they record the documentary of what might be their final world tour, they discover the horrifying truth!
Paul Cornell has been Hugo-nominated for his work in TV, comics and prose, and is a BSFA award-winner for short fiction. He has also written some of Doctor Who's best-loved episodes for the BBC, and has more recently written for the Sherlock-inspired TV show Elementary, starring Jonny Lee Miller and Lucy Liu.
Forbidden Planet London Megastore
179 Shaftesbury Avenue, London, WC2H 8JR
0207 420 3666