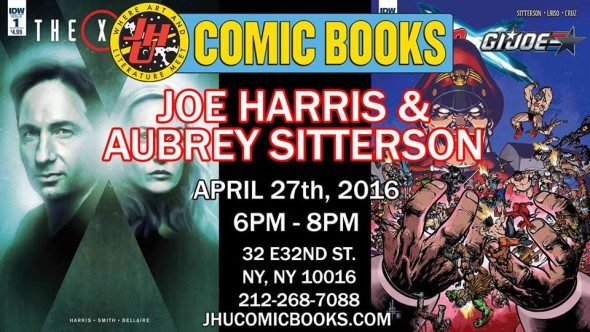 Press Release:
JHU Comic Books is proud to host a delicious duo of daring delight on Wednesday, April 27, 2016 from 6:00 PM – 8:00 PM! IDW's X-Files and Street Fighter X GI Joe comics are making fans happy all over and what better way to celebrate these hot new titles than with a signing!
Both writers, Joe Harris (X-Files Season 11, Great Pacific, Snowfall) and Aubrey Sitterson (Worth, Strange Sports Stories, Tech Jacket) will be signing their awesome work with us!
Come in, get your fanboy/fangirl on and relive your 80s and 90s nostalgia through these two great titles, with both of these awesome talents!
**Purchase of X-Files #1 or Street Fighter X GI Joe #3 required to participate in signing event!
JHU Comic Books MANHATTAN
32 East 32nd Street, New York, NY 10016
(212) 268-7088