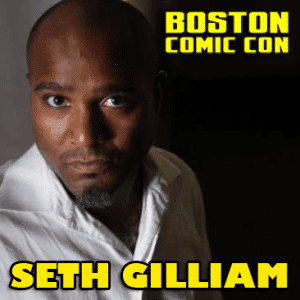 Press Release:
Boston Comic Con is excited to announce actor Seth Gilliam as our latest Celebrity Guest! He currently appears on both The Walking Dead as Father Gabriel and Teen Wolf as Dr. Deaton. Previously Seth starred on the acclaimed television series The Wire and Oz, as well as film roles in Starship Troopers, Courage Under Fire, and Still Alice. He will be on hand all three days to meet fans, sign autographs, and take photos.
He joins our previously announced media guests William Shatner, Jenna Coleman, Karen Gillan, Karl Urban, and Vic Mignogna.
Tickets are on-sale now at the link!
About Boston Comic Con:
The Boston Comic Con is a 100% independently run comic book show committed to bringing the biggest and best comic creators to New England. Run by fans for fans, Boston Comic Con is not affiliated with any other convention tour or corporate interests. Hosting over 120,000 square feet of vendors selling comic books, toys, posters, trading cards, and other pop culture memorabilia, this is a destination event for geeks of any stripe. This year's convention will be held Friday August 12th, Saturday August 13th, and Sunday August 14th at the Seaport World Trade Center, 200 Seaport Blvd, Boston, MA 02210. For more information please go to our website at www.bostoncomiccon.com and follow us on Twitter (@BostonComicCon) and Facebook!