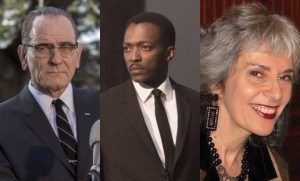 Press Release:
The 92nd Street Y proudly announces a special Reel Pieces event on Wednesday evening, May 18.
After a preview of All the Way — in which Bryan Cranston reprises his Tony Award winning role as President Lyndon B. Johnson — Moderator Annette Insdorf will interview Cranston, actor Anthony Mackie (who plays Martin Luther King, Jr.), director Jay Roach and writer Robert Schenkkan.
An HBO film, All the Way is a behind-the-scenes look at Johnson's tumultuous first year in office following the assassination of President Kennedy: as the Vietnam War escalates, he struggles to pass his landmark Civil Rights bill. It boasts a cast including Melissa Leo (Lady Bird Johnson), Bradley Whitford (Hubert Humphrey), Stephen Root (J. Edgar Hoover) and Frank Langella (Sen. Richard Russell).
Brief Bios
Bryan Cranston is the multiple winner of Emmy, Golden Globe and SAG Awards for his portrayal of Walter White on "Breaking Bad." He received an Oscar nomination for playing the hero of Trumbo (2015), directed by Jay Roach.
In addition to Game Change and Recount for HBO, Jay Roach's directing credits include Meet the Parents and the Austin Powers trilogy.
Anthony Mackie is a two-time Independent Spirt Award nominee, for The Hurt Locker and Brother to Brother. His other films include Our Brand Is Crisis, Triple 9, Black or White, Real Steel, Ant Man, Avengers: Age of Ultron and the Captain America series. His theatrical credits include Ma Rainey's Black Bottom, A Soldier's Play and Talk, for which he won an Obie Award.
An writer, actor and producer, Robert Schenkkan won the Pulitzer Prize for his play, The Kentucky Cycle. He adapted his Tony Award winning play All the Way for the screen.
92nd Street Y
1395 Lexington Avenue, New York, New York 10128
212-415-5500