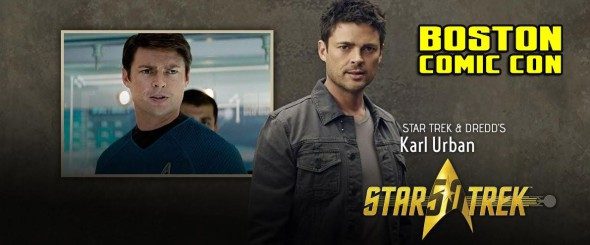 Press Release:
Boston Comic Con is excited to announce that KARL URBAN, star of Star Trek, Dredd and The Lord of the Rings Trilogy will join us this summer at Boston Comic Con on August 13th and 14th!
Karl Urban is a New Zealand born actor with prolific credits in the comic book, science fiction, and fantasy film genres. He is best known for his roles as Eomer of the Riders of Rohan in Peter Jackson's The Lord of The Rings, the lead role of lawman Judge Dredd in the 2012 reboot Dredd, Agent Cooper in the film adaptation of Warren Ellis' comic book limited series, RED. In addition to his film roles Karl has been seen on television as both Cupid and Julius Caesar on cult classic Xena: Warrior Princess, Woodrow F. Call in the western miniseries Comanche Moon, and in the lead role of John Kennex on the sci-fi series Almost Human. Marvel just announced he will appear in Thor: Ragnarok as the villainous Skurge the Executioner!
Most recently Karl plays Dr. Leonard "Bones" McCoy in the new Star Trek film series, a role he actively pursued as a Star Trek fan and has been embraced by fans as faithful to DeForrest Kelley's original performance. This summer Karl will be seen as Dr. McCoy in Star Trek Beyond releasing on July 22, 2016 and will be featured in the upcoming Pete's Dragon remake.
Details on signing times and Photo Ops will be released closer to the convention.
Previously announced guest include comic creators Greg Capullo, Jae Lee, Erik Larsen, Terry Dodson, Mike Allred, Arthur Adams, Amanda Conner, Jim Cheung, Jimmy Palmiotti, Phil Jimenez and many more! Media guests include William Shatner (Star Trek), Karen Gillan (Guardians of the Galaxy), and Jenna Coleman (Doctor Who). Check the website for full details on exciting events!
Tickets are on-sale now at the link!
About Boston Comic Con:
The Boston Comic Con is a 100% independently run comic book show committed to bringing the biggest and best comic creators to New England. Run by fans for fans, Boston Comic Con is not affiliated with any other convention tour or corporate interests. Hosting over 120,000 square feet of vendors selling comic books, toys, posters, trading cards, and other pop culture memorabilia, this is a destination event for geeks of any stripe. This year's convention will be held Friday August 12th, Saturday August 13th, and Sunday August 14th at the Seaport World Trade Center, 200 Seaport Blvd, Boston, MA 02210. For more information please go to our website at www.bostoncomiccon.com and follow us on Twitter (@BostonComicCon) and Facebook!