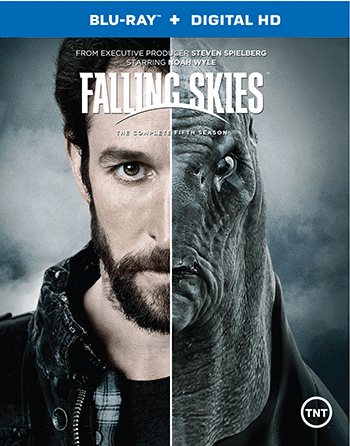 TNT's Epic Drama Falling Skies Wages Its Final Battle On Blu-Ray and DVD Feb. 2, 2016
Falling Skies: The Complete Fifth Season and Falling Skies: The Complete Series Debut with Hours of Exclusive Content, a Lapel Pin and Collector's Coin
Growing up, television during the warmer months was a time to catch up on your favorite series. Reruns were everywhere. Then, we were bombarded with reality shows. Thankfully, though, TNT changed the game for everyone by introducing exciting new programs that would have us eagerly anticipating the summer. The network has produced hit after hit over the years, but for me this one was a stand-out. Here's what you need to know about Falling Skies:
"Falling Skies – TNT's epic alien-invasion saga from Amblin Television and executive producer Steven Spielberg – will land on Blu-ray™ and DVD Feb. 2 for the final time. All 10 action-packed episodes of Falling Skies: The Complete Fifth Season will be available as a two-disc Blu-ray™ release and a three-disc DVD set. The fifth season set features farewell interviews with the cast and crew, including Noah Wyle, Colin Cunningham, Doug Jones and more, as well as "A Look Back," an exclusive group interview with Doug Jones, Colin Cunningham and Sarah Carter.
Falling Skies chronicles the extraordinary story about life and survival in the wake of a catastrophic alien invasion that leaves most of the world completely deliberated. Noah Wyle stars as college professor Tom Mason, who becomes an unlikely resistance leader following the alien attack. As season five opens, all breed of beast and mutant are running rampant on earth. The Espheni's power core has been destroyed, and humans are now ready to fight on their terms. And after four years of being tortured, Tom and the 2nd Mass are filled with rage, ready to destroy the enemy in an all-out battle to determine the fate of Earth. Falling Skies: The Complete Fifth Season will be available for the suggested retail price of $49.99 on Blu-Ray and $39.99 on DVD."
We watched Falling Skies from the premiere episode and never missed a week. For a television show, I was always impressed with the visual effects which were comparable to those of full-length feature films. Though, I admit that every season had at least one lull point for me in which things moved a bit slow, overall Falling Skies maintained a steady pace and nice balance between action and suspense. There were a few nods to alien invasion films of the past, but I suppose the saying 'imitation is the sincerest form of flattery' holds some truth.
Wyle portrays the everyman-turned-soldier Tom with the sort of passion you'd expect from a parent protecting his children. The supporting cast of recognizable character actors are suitably put through the wringer both physically and emotionally. But, if season five's stand-out belongs to John Pope, played to psychotic perfection by Colin Cunningham. Pope is Tom's antagonist from the very start, sometimes more so than the actual aliens. Fearing humanity is a mainstay of dystopian and apocalyptic stories, don't you think? Throughout the series we witness Pope transform from bad to good and back again. Desperation and loss of hope allow Cunningham to shine in this role. I was actually disappointed with how quickly the writers wrapped up the final season, as I could have watched Pope's journey continue longer.
Falling Skies is a top notch sci-fi adventure for all to enjoy!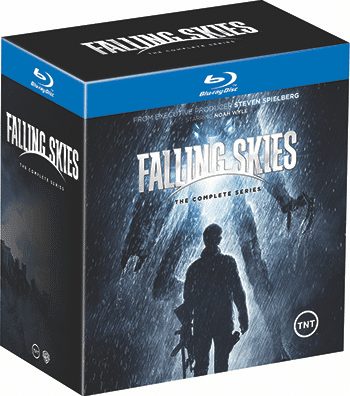 Here are some clips from their WonderCon panel:
"Since premiering as basic cable's #1 new series of 2011, Falling Skies has ranked as one of basic cable's Top 15 original dramas with total viewers and key adult demos. In its fifth season, more than 12.6 million people tuned in to watch the first six episodes, and the show ranked among basic cable's Top 5 programs with key adult and male demos."
Falling Skies is executive-produced by Steven Spielberg and Amblin Television heads Justin Falvey and Darryl Frank, along with David Eick.
For fans looking to have the entire series in one complete set, the Falling Skies: The Complete Series 10-disc Blu-ray and 15-disc DVD box set will feature the entire 52-episode series run. In addition, the box set will package hours of bonus content including behind-the-scenes features, commentaries, character interviews and "Inside the Episodes," plus WonderCon and Comic-Con 2014 panel features. Both the Blu-ray and DVD release of the complete series include a special collector's coin on-pack, and the Blu-ray also features an exclusive lapel pin. Falling Skies: The Complete Series will be available for the suggested price of $139.99 on Blu-ray and $129.98 on DVD.
Falling Skies: The Complete Fifth Season Basics
Street Date: February 2, 2016
Feature Running Time: 440 minutes
SRP for Two-Disc Blu-ray Set: $49.99
SRP for Three-Disc DVD Set: $39.98
Audio: English
Rating: TV-14-DLSV
Blu-ray UPC Code: 883929523924
Blu-ray Catalog #: 1000585785
DVD UPC Code: 883929523931
DVD Catalog #: 1000585786
Falling Skies: The Complete Series Basics
Street Date: February 2, 2016
Feature Running Time: 2,228 minutes
SRP for Ten-Disc Blu-ray Set: $139.99
SRP for Fifteen-Disc DVD Set: $129.98
Audio: English
Rating: TV-14-DLSV
Blu-ray UPC Code: 883929524174
Blu-ray Catalog #: 1000586192
DVD UPC Code: 883929523962
DVD Catalog #: 1000585793
About TNT
TNT is basic cable's #1 network. Seen across multiple platforms in 94 million households, TNT is home to such original drama series as The Last Ship, The Librarians, Major Crimes, Murder in the First, Rizzoli & Isles and the upcoming Animal Kingdom, Good Behavior and The Alienist. TNT also features the unscripted investigation series Cold Justice and Cold Justice: Sex Crimes. In addition, TNT is the cable home to popular dramas like Castle, Bones, Supernatural and Grimm; primetime specials, such as the Screen Actors Guild Awards®, the Live Nation Music Awards and the iHeartRadio Music Awards; and championship sports coverage, including the NBA and the NCAA Division I Men's Basketball Championship.
TNT is part of Turner, a Time Warner company. Turner creates and programs branded news; entertainment; kids and young adult; and sports media environments on television and other platforms for consumers around the world.