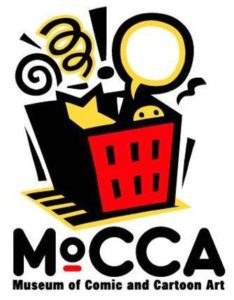 Press Release:
The Society of Illustrators is proud to share this year's stellar list of Guests of Honor for the MoCCA Arts Festival in New York City. They are:
* Cece Bell, author of the phenomenal middle grade graphic memoir El Deafo (winner of the Newberry Honor and an Eisner Award)
* R.O. Blechman, Emmy Award-winning illustrator, animator, cartoonist and author.
* Phoebe Gloeckner, whose subversive classic The Diary of a Teenage Girl was recently adapted into a critically acclaimed film of the same name.
* Sonny Liew, whose graphic novel The Art of Charlie Chan Hock Chye was censured by the National Arts Council of Singapore and is forthcoming from Pantheon Books.
* Rebecca Sugar, creator of the quietly radical animated cartoon series Steven Universe.
This diverse group of artists exemplifies the limitless aesthetic and social power of comics and cartooning. The MoCCA Arts Festival will take place on April 2 – 3rd from 11:00AM – 6:00PM at our brand new location at Metropolitan West (636 W. 46th St.) with programming mere steps away at Ink48 (653 11th Ave.).
Price of admission is $5 per day and will grant attendees access to the Fest including the Exhibitors Hall, on-site Gallery space, and programming. Tickets will be available for purchase at the door. Children under twelve are free. Further scheduling information regarding our Guests of Honor will be available in future announcements.
ABOUT THE GUESTS OF HONOR
Cece Bell
Children's book author and illustrator Cece Bell attended the College of William and Mary where she studied Art History, and later attended Kent State University, earning a graduate degree in illustration and design. Her colorful, fun and quirky drawings can be found in her best-selling books Rabbit & Robot: The Sleepover, Crankee Doodle, Bug Patrol, Itty Bitty, Bee-Wigged, and the Sock Monkey series. In 2015, Bell received the Newbery Medal Honor for her graphic novel El Deafo, a story based on her own experiences growing up deaf.
R.O. Blechman
R.O. Blechman is a multiple award-winning and influential animator, illustrator, children's book author, graphic novelist and editorial cartoonist. His many books include the groundbreaking 1953 graphic novel The Juggler of Our Lady and the forthcoming Amadeo & Maladeo: A Musical Duet. His work in animation includes The Soldier's Tale and unforgettable advertisements for products like Alka Seltzer. He has received multiple recognitions including a Lifetime Achievement Award from The National Cartoonists Society in 2011, was inducted into the Society of Illustrators' Hall of Fame in 2012. His work has been shown at The Norman Rockwell Museum, The School of Visual Arts, and MoMA.
Phoebe Gloeckner
Phoebe Gloeckner began cartooning after moving to San Francisco in the 1970s, and was greatly influenced by the underground comix movement led by artists including Robert Crumb, Aline Kominksy, Bill Griffith, Diane Noomin, and Terry Zwigoff. Her early work appeared in anthologies including Wimmen's Comix, Weirdo, and Twisted Sisters. Both her 1998 collection A Child's Life and Other Stories and the 2002 novel The Diary of a Teenage Girl: An Account in Words and Pictures received notable recognition as well as controversy for its honest portrayal of teenage sexuality with themes of drug use and childhood traumas. The book has been adapted into a theatrical production and a critically acclaimed feature film of the same name. She is the recipient of the 2000 Inkpot Award, received the Guggenheim Fellowship in 2008, and is currently the Faculty Fellow at the University of Michigan Institute for the Humanities.
Sonny Liew
Sonny Liew is a comics artist, painter, and illustrator whose work includes the New York Times bestseller The Shadow Hero (with Gene Yang), Doctor Fate (with Paul Levitz), Malinky Robot and titles for Marvel Comics, DC Vertigo, and Image Comics. He has been nominated for multiple Eisner Awards for his collaborations on The Shadow Hero, Wonderland, and Liquid City, a multivolume comics anthology featuring creators from Southeast Asia. He lives and works in Singapore.
Rebecca Sugar
Animator, composer and director Rebecca Sugar's groundbreaking career started as a writer and storyboard artist on the animated television series Adventure Time. She later went on to create the Cartoon Network series Steven Universe, and became the first woman to independently create a series for that network. She has received numerous Emmy and Annie Award nominations for her work on both series.
About the Society of Illustrators and the Museum of Comic and Cartoon Art (MoCCA)
Founded in 1901, the Society of Illustrators is the oldest nonprofit organization dedicated to the art of illustration in America. Notable Society members have been N.C. Wyeth, Rube Goldberg, and Norman Rockwell, among many others. Our Museum of Illustration was established in 1981. We offer year-round themed exhibits, art education programs and annual juried competitions. Our Permanent Collection houses 2,500 pieces that are cataloged for scholarly use and displayed periodically. In 2012, we created the MoCCA Gallery with a focus on curated exhibits of comic and cartoon art.
The MoCCA Arts Festival is a 2-day multimedia event, Manhattan's largest independent comics, cartoon and animation festival, drawing over 7,000 attendees each year. With 400 exhibiting artists displaying their work, award-winning honorees speaking about their careers and artistic processes and other featured artists conducting workshops, lectures and film screenings, our Festival mission accelerates the advancement of the Society's broader mission to serve as Manhattan's singular cultural institution promoting all genres of illustration through exhibitions, programs and art education.