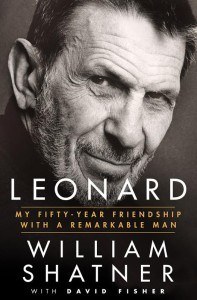 William Shatner appears at Barnes & Noble in Union Square on Monday February 15, 2016 at 7:00 PM to sign his new memoir Leonard: My Fifty-Year Friendship With a Remarkable Man.
Over the course of half a century, Shatner and Nimoy saw each other through personal and professional highs and lows. In this powerfully emotional book, Shatner tells the story of a man who was his friend for five decades, recounting anecdotes and untold stories of their lives on and off set, as well as gathering stories from others who knew Nimoy well, to present a full picture of a rich life.
Special Instructions
Must provide proof of purchase from this Barnes & Noble retail location or BN.com to receive a wristband. A limited amount of wristbands will be distributed beginning at 9:00AM on the day of the event. No memorabilia. More information coming soon.
Barnes & Noble – Union Square
33 East 17th Street, New York, NY 10003
212-253-0810