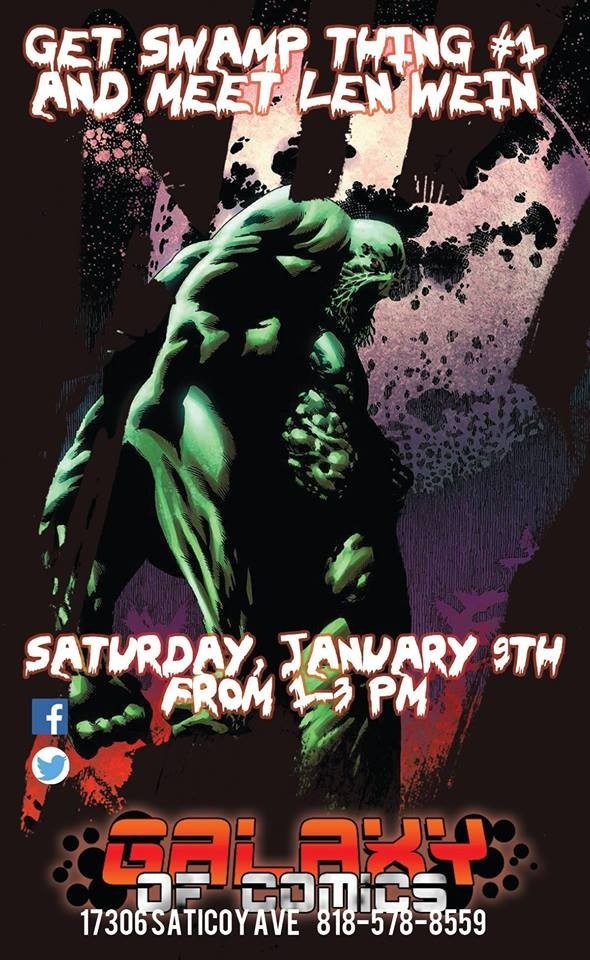 Press Release:
Galaxy of Comics proudly presents comic book legend LEN WEIN (co-creator of Swamp Thing, Wolverine, Storm, Nightcrawler, Colossus) signing his new book, SWAMP THING #1, from DC Comics, Saturday, January 9th, 2016, from 1:00 PM to 3:00 PM!
* Swamp Thing has received an ominous warning, and now he finds himself under attack from the forces of dark magic. These are more than just your average monsters—and there's something much worse looming on the horizon for Alec Holland! Swamp Thing returns in an all-new series written by his co-creator, legendary writer Len Wein along with legendary artist Kelley Jones!
With a career spanning five decades, Eisner Award Winner LEN WEIN has been everything from comic book artist, writer and even Editor-in-Chief of Marvel Comics! And now the Galaxy of Comics has Len here to sign his new SWAMP THING!!!
So, stop by the Galaxy of Comics and chat with Len Wein and get your copy of SWAMP THING #1 signed!!
Galaxy of Comics
17306 Saticoy Street, Van Nuys, CA 91406
(818) 578-8559