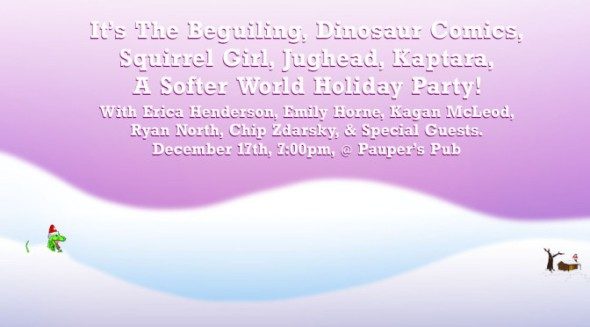 Press Release:
A holiday tradition returns, as The Beguiling is once again thrilled to welcome one and all to our almost-annual Dinosaur Comics Holiday Party & Book Launch, featuring our good friend Ryan North! This year Ryan will be joined by a star-studded list of good pals and collaborators on his projects, including Erica Henderson (artist on Unbeatable Squirrel Girl and Jughead), Chip Zdarsky (writer on Jughead and Kaptara), Kagan McLeod (artist on Kaptara), and Emily Horne, of the recently-completed comic strip A Softer World! Plus, who knows, a few special guests and a few special books might make an appearance as well! Who knows!?
All of our guests will be getting together for some holiday cheer, with a fun on-stage interview, and a book signing too! Get your comics signed, or buy comics there (courtesy of The Beguiling) to get signed for yourself or for gifts! There's nothing better than signed comics for Christmas gifts!
Plus, returning for another year is the popular SECRET SANTA event!
If you would like to participate:
– Please bring a wrapped gift with a monetary value of about $5-$10.
– Go to the book sales table and trade your gift for a numbered ticket.
– At 8:30pm, we'll call out the numbers, and when your number is called you'll have your choice of the available gifts!
– Please mark on the outside of the gift if your item contains food and especially if it contains common allergens including peanuts, gluten, etc., so that people with allergies will be able to make an informed Secret Santa Selection.
Pauper's Pub
539 Bloor St W, Toronto, ON M5S 1Y5, Canada
416-530-1331