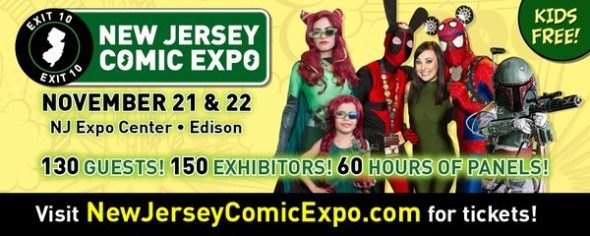 New Jersey Comic Expo (#NJCE) makes its debut this weekend on November 21st and 22nd with several special guests!
Best-selling and fan favorite superstar comic book artist Jim Lee will be making a rare appearance at NJCE on Sunday, November 22nd. Jim's appearance at NJCE is his final U.S. convention appearance of the year! Attendees will have the chance to line up for a special TWO HOUR hour signing with a two-item limit! The signing will begin at 10AM and will be first come, first served.
Writer Garth Ennis, best known as the co-creator of the Vertigo comic Preacher with Steve Dillon, which is coming soon to AMC, and his fan beloved nine-year run on Marvel's Punisher. So if you have a stack of the plethora of comics authored by Mr. Ennis, you may want to bring them to the 2015 NJCE, because this will be his ONLY appearance in the great state of New Jersey.
Superstar Comic Book artist John Cassaday will be making a rare appearance this weekend at the New Jersey Comic Expo! Appearing both Saturday & Sunday, John who most recently handled the art on the first six issues of Marvel's flagship Star Wars book, will be signing books for fans and will also be available for meet & greet session via our VIP packages.
Angel and Person of Interest's Amy Acker will be joining us on Saturday and Drea de Matteo (The Sopranos, Sons of Anarchy) and from Marvel's Daredevil on NetFlix Peter Shinkoda and Tommy Walker will be there all weekend. In addition to signing autographs for fans (Additional fees apply) at their tables in our Celeb Signing Area we will also be offering the opportunity to have a professional photo with your favorite celeb taken by Epic Photo-Ops, the convention photo pros.
Other guests include: Mark Bagley, Frank J. Barbiere, Chris Batista, Ryan Bodenheim, Ivan Brandon, June Brigman, Jim Calafiore, Dennis Calero, Joe Caramagna, Paul Castiglia, Chris Claremont, Toby Cypress, Vito Delsante, Todd Dezago, Steve Ellis, The Fraim Bros, Bryan J.L. Glass, Justin Gray, Scott Hanna, Joe Harris, Edwin Huang, Jamal Igle, Jeff King, Joseph Michael Linsner, Shawn Martinbrough, Ben McCool, Mark Morales, Rags Morales, Rudy Nebres, Fabian Nicieza, Cary Nord, Carl Potts, Rodney Ramos, Tom Raney, Ivan Reis, Rod Reis, Dave Roman, Craig Rousseau, Fernando Ruiz, Buddy Scalera, Bob Schreck, Jeffery Shultz, Alex Simmons, Louise Simonson, Walter Simonson, Frank Tieri, Peter J. Tomasi, Ethan Van Sciver, Charles Paul Wilson III, and more! For the full guest list, tickets, and further details please check the website: www.newjerseycomicexpo.com