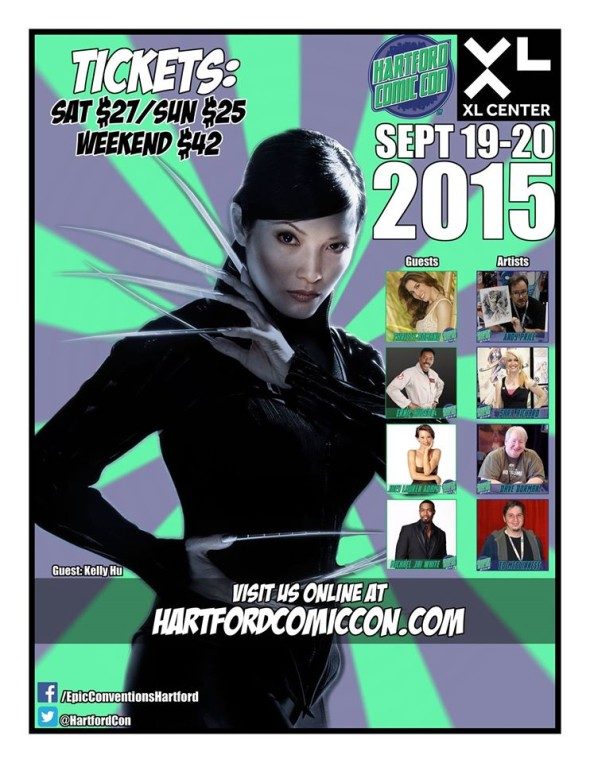 Hartford Comic Con returns this September 19-20, 2015 at the XL Center in Hartford, CT! In the very first year, over 11,000 fans attended and this year they are looking for even more fans to join in the fun!
The staff has been hard at work putting together a great guest line up for this year's convention and will continue to do so up to the opening of the show! Currently the following comic creators are scheduled to appear: Ray Fawkes, Chad Hardin, John Tyler Christopher, Ed McGuinness, Ben Templesmith, Dave Dorman, Jeremy Bastian, Craig Rousseau, Mark McKenna (special host for this year's Kids Conn!), Jack Purcell, Bob Almond, Khary Randolph, Paul Ryan, Sara Richard, Darby Pop!, Jeff Schultz, Ransom Getty, Nate Bellegarde, Mike Lilly, Matt Fletcher, Braden Lamb, Alex Sanchez, Eric Talbot, Alex Sanchez and Ale Garza!
Additionally several media guests from movies and television will also appear: Kelly Hu, Eric Roberts, Michael Jai White, Joey Lauren Adams, Christy Romano, BJ Britt, Ernie Hudson, Samantha Newark, Nicki Clyne, Robert Axelrod, Jeff Kline, Taimak, Tito Santana, and Trina Nishimura!
For those interested in either Artist Alley tables or Vendor space, please visit our website www.hartfordcomiccon.com and follow the link under the registration tab.
Follow on Facebook for the most up-to-date information! RSVP on Facebook!
For those interested in attending our event, tickets are available directly from the XL Center's homepage www.xlcenter.com, by phone 877-522-8499, or by visiting the XL Center itself.