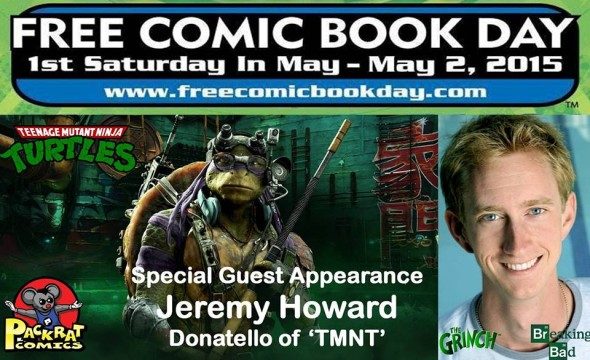 Press Release:
It's Free Comic Book Day! Get ready for free comics! We'll have thousands to give away this year and as always we'll have a van load of fun!
Guest of Honor:
Jeremy Howard is joining us for our 2015 FCBD celebration! He appeared in the films Sydney White, Galaxy Quest, Accepted, and most recently Teenage Mutant Ninja Turtles, where he performed the motion capture and voice for Donatello! Cowabunga!
Special Guest Artist:
Val Staples
Featured Publisher:
Josh Blaylock – Devils Due Publishing
Stephen Snyder-Hill
Dirk Manning
Matthew Swift
Eric Palicki
Daniel Boyd
William Bitner
Sean & Steph Forney
Molly Durst
JD Larabee
Molly Durst
Michael Neno
Jamie Snell
Michael Anthony Carroll
Seth Lyons
Art Explorer Post Program
Live Podcasters:
Packrat Podcast
Basement Fodder
Food:
Mikey's Late Night Slice
Activities:
Free Packrat Comics FCBD screen printing on your own shirt – or buy one of ours for a small fee!
Costume Contest
Whose Line Is It Anyway featuring Tea Time with Deadpool
Pizza Eating Contest
Packrat Comics
3872 Lattimer Street, Hilliard, OH 43026
(614) 527-8450