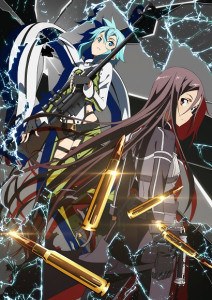 Press Release:
Aniplex of America has announced that they will be hosting a Sword Art Online II English Dub U.S. Premiere Event. Celebrating the debut of Sword Art Online II on Toonami, this event will be held simultaneously at Anime Conventions in both the East (Anime Boston) and West Coasts (Sakura Con) on Saturday, April 4th.  The Event features the English Dub Premiere of select episodes from Sword Art Online II. In addition, there will be special guests in attendance at Anime Boston including Cherami Leigh (English Voice of Asuna), Cassandra Lee Morris (English Voice of Leafa) and LiSA (Singer of the Ending Theme Song "SHIRUSHI"). Don't miss your opportunity to enjoy Sword Art Online II at this very special event.
View all of Anime Boston's Guests of Honor here.
About Anime Boston:
With nearly 25,500 attendees in 2013, Anime Boston is an annual three-day Japanese animation convention held in Boston, Mass. Anime Boston 2015 is scheduled for Friday, April 3 through Sunday, April 5 at the Hynes Convention Center and Sheraton Boston Hotel. More information about Anime Boston can be found at www.animeboston.com.
About New England Anime Society:
The New England Anime Society was founded in 2001. Based in Massachusetts, The New England Anime Society, Inc. is parent organization of Anime Boston and is dedicated to furthering public education and understanding of the Japanese language and culture through visual and written media. More information about The New England Anime Society is available at www.neanime.org.