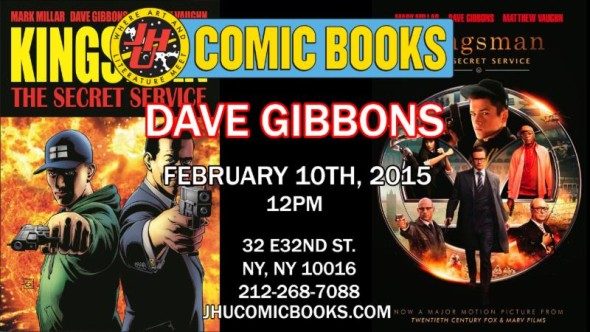 Artist Dave Gibbons (Watchmen) appears at JHU Comic Books on Tuesday, February 10, 2015 at noon for a special signing event of the smash hit comic Kingsman (The Secret Service). 
Event Update: Unfortunately, due to a medical emergency, Mark Millar will not be appearing for this event. We hope to have him for another event later this year.
Press Release:
To celebrate the February 13th release of the Fox film, "Kingsman," JHU Comic Books will be hosting a fantastic signing event! Come meet these two fan-favorite talents and get your books signed!
There will be a limit of 5 items to get signed, per customer, on a first come first serve basis.
KINGSMAN: THE SECRET SERVICE
Release: February 13, 2015
Action-Thriller
Director: Matthew Vaughn
Screenplay: Jane Goldman & Matthew Vaughn, based upon the comic book "The Secret Service" by Mark Millar and Dave Gibbons
Producers: Matthew Vaughn, David Reid, Adam Bohling
Cast: Colin Firth, Samuel L. Jackson, Mark Strong, Taron Egerton, and Michael Caine
Based upon the acclaimed comic book and directed by Matthew Vaughn (Kick Ass, X-Men First Class), Kingsman: The Secret Service tells the story of a super-secret spy organization that recruits an unrefined but promising street kid into the agency's ultra-competitive training program just as a global threat emerges from a twisted tech genius.
JHU Comic Books MANHATTAN
32 East 32nd Street, New York, NY 10016
(212) 268-7088