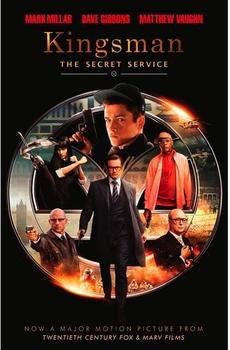 Writer Mark Millar and artist Dave Gibbons will be celebrating the cinema release of Kingsman: The Secret Service with signing of the original Graphic Novel at the Forbidden Planet London Megastore on Saturday 31st January at 1:00pm.
Based upon the acclaimed comic book and directed by Matthew Vaughn, Kingsman: The Secret Service tells the story of a super-secret spy organization that recruits an unrefined but promising street kid into the agency's ultra-competitive training program just as a global threat emerges from a twisted tech genius.
Mark Millar is the award-winning writer/ creator of Wanted and Kick-Ass and worked as an executive producer on their subsequent movie adaptations. He is also the Creative Consultant for Twentieth Century Fox in Los Angeles, overseeing their upcoming Marvel movies. His ten years at Marvel produced Civil War, the biggest-selling series of the decade, and The Ultimates, credited by screen-writer Zak Penn as his inspiration for The Avengers movie. His Millarworld company has expanded in the last few years to include Kick-Ass 2, Hit-Girl, The Secret Service, Nemesis, War Heroes, American Jesus, Supercrooks and Superior. In 2012, he was awarded an honorary doctorate by Glasgow Caledonia University for his services to film and literature.
Dave Gibbons is one of Britain's finest comic artists, whose most famous work is the multi-award- winning Watchmen. Since then he has drawn series including Batman, Doctor Who and Give Me Liberty, and has written Batman vs. Predator, Green Lantern and World's Finest, as well as his own graphic novel The Originals.
Due to time restraints, Mark Millar and Dave Gibbons will only be signing copies of Kingsman: The Secret Service graphic novels.
Forbidden Planet London Megastore
179 Shaftesbury Avenue, London, WC2H 8JR