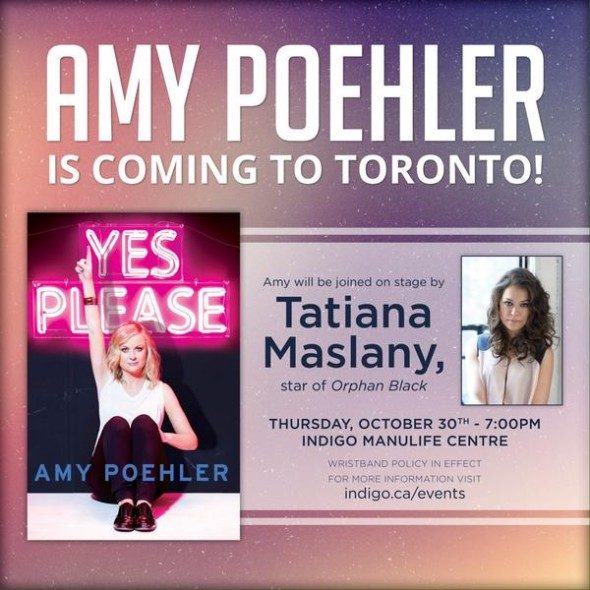 Amy Poehler speaks with Tatiana Maslany at Indigo on Thursday October 30th at 7:00 PM with a book signing to follow!
Press Release:
Actress, Comedian, Producer, Writer, Awards Show Host, Former Saturday Night Live cast member and the 2014 Golden Globe winning star of Parks and Recreation – Amy Poehler. Join us as Amy launches her first book Yes Please!. Interview with Tatiana Maslany from Orphan Black.
Event Guidelines
-Wristband policy. 500 wristbands will be distributed at Indigo Manulife Centre on the day of event (beginning at 8:00 AM) with the purchase of ONE (1) copy of Amy Poehler's Yes Please!.
-ONE (1) wristband per person.
-Only individuals with a wristband will have access to the signing line and cannot be accompanied by anyone without a wristband.
-NO memorabilia.
-NO personalization.
-Candid photos only, no posed photography or video recording will be permitted.
Indigo – Bay & Bloor
55 Bloor Street W, Toronto, ON M4W 1A5, Canada
+1 416-925-3536