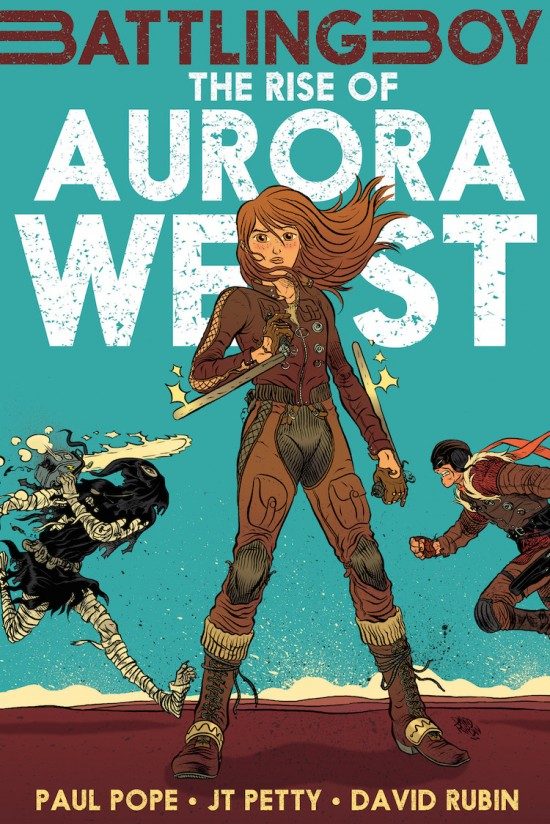 UPDATE: Unfortunately, this event has been cancelled. 
Paul Pope appears at Secret Headquarters on Saturday October 4th at 7:00 PM to sign
Press Release:
Come join Secret Headquarters in celebrating the release of a great new book with one of our favorite creators!
The extraordinary world introduced in Paul Pope's Battling Boy is rife with monsters and short on heroes… but in this action-driven extension of the Battling Boy universe, we see it through a new pair of eyes: Aurora West, daughter of Arcopolis's last great hero, Haggard West.
A prequel to Battling Boy, The Rise of Aurora West follows the young hero as she seeks to uncover the mystery of her mother's death, and to find her place in a world overrun with supernatural monsters and all-too-human corruption. With a taut, fast-paced script from Paul Pope and JT Petty and gorgeous, kinetic art from David Rubin, The Rise of Aurora West (the first of two volumes) is a tour de force in comics storytelling.
Paul Pope is the acclaimed author-illustrator of Batman: Year 100, Heavy Liquid, and 100%. Known for his frenetic, high-energy artwork and action-packed, genre-bending storytelling, Pope has won three Eisner Awards. He lives and works in New York City. His first graphic novel for kids, Battling Boy, was a #1 New York Times Best-Seller.
Secret Headquarters
3817 W Sunset Blvd, Los Angeles, CA 90026
323.666.2228