Event Details: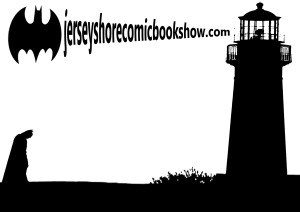 Convention Name
JERSEY SHORE COMIC BOOK SHOW
Convention Website Address
http://jerseyshorecomicbookshow.com
This convention will take place:
Date (Format mm/dd/yyyy)
11/16/2014
About This Convention
The Jersey Shore Comic Book Show will be hosting another show on Sunday, November 16, 2014 at the Toms River Elks Club, 600 Washington Street Toms River, New Jersey for what promises to be yet another GREAT show for everyone attending.
Once again we will be featuring our "Artist Lounge" with over 20 Comic Artists, Writers, and Creators showing off their great and unique work, as well as offering them up for purchase to attendees. We will also be having new faces joining us this time, Joe DelBeato, Dave Ryan and Joe Martino.
We will also be having not one, not two, but THREE huge cosplay/costume groups joining us for our November Show. THE NORTH JERSEY GHOSTBUSTERS, THE 501ST LEGION ( get ready to battle it out with the Storm Troopers! ) and the U.S.S. IWO JIMA INDEPENDENT STAR TREK GROUP.
Also making his debut, will be "MAC" the famous cat from Rusty Gilligan's comic strip about his pets, "Mac and Trouble." MAC will be on hand for photo's and will be handing out goodies and tickets for a surprise raffle drawing for some great prizes!
AND…parents, Don't Forget to Bring the KIDS!! Why?? Because SANTA arrives at 1pm with goodies for everyone!!!!Drawings for Door Prizes will be held thru-out the day with some great prizes and our popular $how Ca$h !
Goodie bags for the first 50 attendees and for those in cosplay costumes! Yes, be sure to wear your cosplay costume, as we will be having a cosplay costume contest with judging to take place at 2pm.

ADMISSION is $2.00 Kids under 12 FREE Those in Cosplay Costumes also FREE !
FREE parking!!

For Artist, dealer, vendor table inquiries please contact Dan or Mary at howellmanforyou@aol.com OR call (609) 242-7756

LIKE us and visit us on Facebook at www.facebook.com/jerseyshorecomicbookshow

Venue Name and Address
Toms River Elks Club
600 Washington Street (Corner of Washington and Clifton)
Toms River, New Jersey 08753
United States
Map It
Number of Dealer/Exhibitor Tables
70
Projected Attendance
750
Please select the Category that best describes the convention
Comic Books
Additional Categories

Anime
Science Fiction and Fantasy
Collectibles

Guests
JOE DELBEATO, BOB PETRECCA, DAVE RYAN, JOE MARTINO, RUSTY GILLIGAN, NEIL VOKES, HOWARD BENDER, EMILIO VELEZ JR., LITTLE BLOKES, MICHAEL GRASSIA, TONY TOWNSEND, TOME SHCLOENDORN, ROSE ARENAS, DAVID HARDY, BRITTANY DVORSCAK, STEVEN LISEFSKI, BETTINA FILOMENA DENONNO.