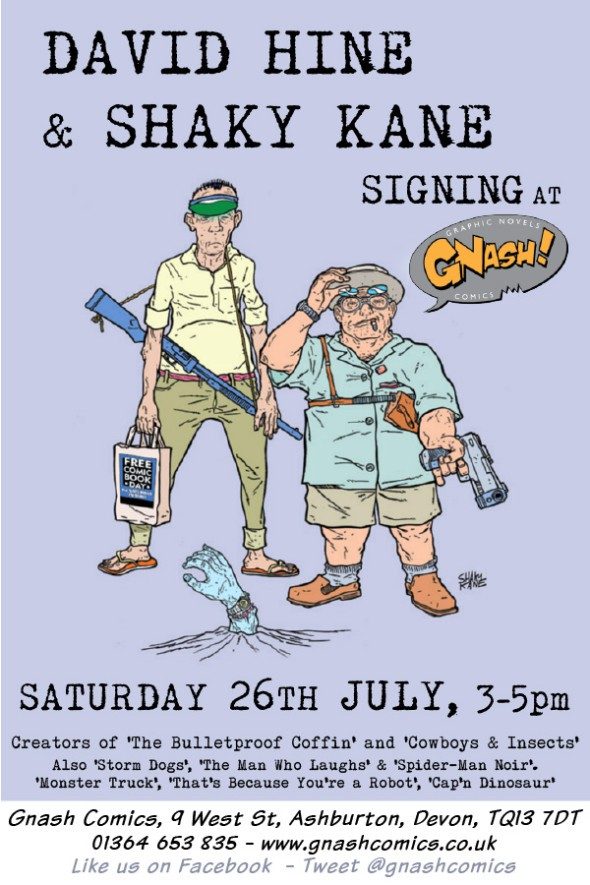 Comic creators Shaky Kane and David Hine appear at Gnash Comics on Saturday 26th July from 3:00 – 5:00 pm!
Press Release:
Come and join comic creators Shaky Kane and David Hine at Gnash as they sign their work, chat and answer your questions!
Get a free ticket from our Eventbrite listing and get 10% discount on purchases on the day!
The pair work together on 'The Bulletproof Coffin' and 'The Bulletproof Coffin: Disinterred' series from Image Comics and 'Cowboys and Insects' from Aces Weekly, but both have a long history in comics, stretching back to the British underground zines in the 1980′s, moving through to 2000AD, Escape, Deadline, Crisis, Marvel, DC Comics, Image Comics and beyond.
While not collaborating, David Hine has worked on the Image series 'Storm Dogs','The Man Who Laughs' graphic novel, 'Spider-Man Noir', the 'Poison Candy' manga series and has written numerous for numerous storylines and characters from Marvel and DC Comics.
Shaky Kane has drawn 'That's Because You're a Robot' with writer David Quantick, worked on 'Elephantmen' and 'Cap'n Dinosaur' from Image Comics, and written and drawn his own graphic novel: 'Monster Truck'.
We're putting a listing up for this event on Eventbrite – you can see it by clicking here – claim your free event ticket from the Eventbrite listing and you'll get 10% discount off anything in Gnash for the event!
See you on Saturday the 23rd of July at 3pm!
Gnash Comics
9A West Street, TQ13 7DT Ashburton, Devon, UK