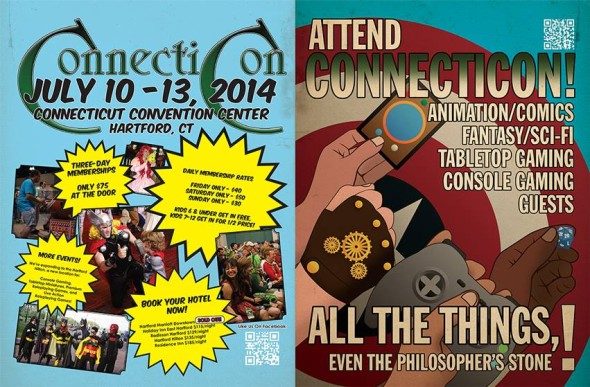 Press Release:
Fans of pop culture from across the Northeast and around the world will gather at the Connecticut Convention Center July 10th-13th, for the twelfth annual ConnectiCon in Hartford, CT. Founded in 2002, ConnectiCon is the largest massively multi-genre convention in New England.
This year's event showcases over 7,000 hours of programming spread out over four days including; informative panels and hands-on workshops, special guest and celebrity appearances, trading card games, board games, and roleplaying games, including dozens of scheduled tournaments, console gaming and arcade machines. ConnectiCon is proud to introduce the Northeast League of Legends Tournament with over $6,000 in prizes!
ConnectiCon features main events such as, "Nerd Prom," which is held Thursday evening at 8:30pm, tickets are available online. "ConnectiCon's Singled Out!" Contestants, who pre-register online, will have a chance to win a date sponsored by ConnectiCon at a local participating restaurant. There's also a ConnectiCon Masquerade Event held on Saturday, and the ConnectiCon "Cosplay Death match!" Plus many other fantastic events!
ConnectiCon will host nearly 90 special guests and celebrities including stars of stage and screen such as Noah Hathaway (The Neverending Story), Walter Jones (Mighty Morphin' Power Rangers), Alan Oppenheimer (Masters of the Universe), Janet Varney (Legend of Korra), Jennifer Hale (Mass Effect), Maurice LaMarche (Futurama) and Rob Paulsen (Teenage Mutant Ninja Turtles) and Richard Horvitz and Rikki Simons of the cartoon Invader Zim and Internet celebrity, Doug Walker, AKA That Guy With The Glasses. Joining them are voice actors Chris Cason, Danielle McRae, Ellen McLain, and Lauren Landa, comic creator Farel Dalrymple, and dozens of other talented guests.
Annual memberships to ConnectiCon are available online or at the door, and include access to all four days of the convention, as well as quarterly member appreciation days and other events year-round. It's fun for the entire family! For more information please go to their website www.connecticon.org or Facebook page.