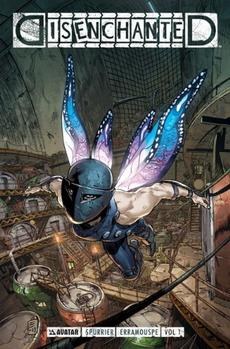 Simon Spurrier signs Disenchanted Vol. 1 and other titles, at the Forbidden Planet London Megastore on Wednesday 25th July from 6:00 – 7:00 pm!
SIMON SPURRIER welcomes you to Vermintown! The smash-hit webcomic is collected for the first time!
Nobody gives a crap about the little people any more. Once they were the mainstay of folklore: goblins, leprechauns, pixies, and fey. But now? Dispossessed, forgotten, doubting even their own traditions, they've trickled into Vermintown: a vast and vile city of a million inch-tall malcontents. Sprawling through an abandoned subway station deep beneath London, here myth has given way to sleaze, drugs, gangland violence and interracial hatred. Vermintown is where magic went to die. What ever happened to magic?
Simon Spurrier was physically born in the 80's but profiles an existential/curmudgeonly age of 103.
Working as an Art Director for the BBC in the armpit of the millennium, he took an unscripted tangent into the murky depths of Making Stuff Up On Paper and has since become an award winning author and graphic novelist. His latest crime novel, A Serpent Uncoiled, was released to great critical acclaim in 2011, while his comics works includes Judge Dredd, Crossed, Gutsville, Six-Gun Gorilla and the all-new, all-weird X-Men Legacy – part of the "Marvel Now" initiative.
Forbidden Planet London Megastore
179  Shaftesbury Avenue, London, WC2H 8JR