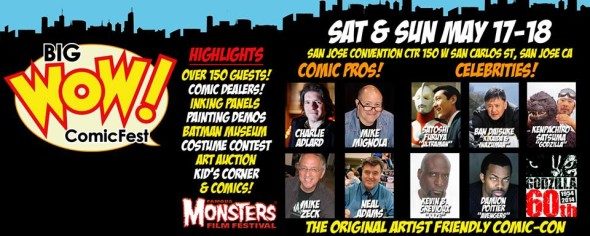 Press Release:
Big Wow! Comic Fest Returns to San Jose on May 17th & 18th, 2014, bringing two great days of Comic Book, Art, Anime, Sci-Fi, Fantasy, Gaming and Cosplay FUN! Many of the country's best vendors of all things cool and collectible will tempt your wallets with the perfect gifts for Geek, Nerds, Fans and True Collectors, everywhere!
Founded in 1979 as "Super-Con", Big Wow! Comic Fest is not only Northern California's Longest-Running Comic-Con, but is this year's Only Major Comics Event in the San Francisco Bay Area!
As the Original Artist-Friendly Show, we have Fantastic Comic Book Creator Guests spanning all decades and genres! This year we are pleased to welcome as our Featured Guests: Charlie Adlard (Artist for the popular "Walking Dead" series), Legendary Illustrator Neal Adams (Batman, X-Men, Avengers), Hellboy Creator Mike Mignola, Fan-Favorites… Travis Charest (Weapons of the Metabarons), Art Adams (X-Men, Godzilla), and more Special Guests including: Dan Brereton (Nocturnals), Mike Zeck (Punisher, Spider-Man, Secret Wars), Joe Linsner (Dawn), Bill Morrison (The Simpsons, Futurama, Disney Poster Artist), Alex Nino (Dead Ahead), Sergio Aragones (Mad Magazine, Groo the Wanderer), Liam Sharp (Gears of War), and many more confirmed and added to our website! Over 200 Comic Creators!
Meet, get autographs, and learn the secrets of Show Biz from our spectacular CELEBRITY GUESTS:
GODZILLA is in the House…Meet Kenpachiro Satsuma, in 1984's RETURN OF GODZILLA, he would land the title role of Godzilla and continue as the King of Monsters for the next 11 years. This is first time to America in over 20 years.
Also from Japan, meet Satoshi Furuya he enthralled generations of children with his portrayal of the original Ultraman.
Jane Wiedlin is the sexy and charismatic guitar player for The GoGos! One of the best known Rock/Pop groups to emerge from the 1980's, Jane is back at work, creating a stage production for her self published comic series "Lady Robotica".
Also Appearing will be: Kevin Bernard Grevioux (Co-Writer, Producer and actor in "Underworld", "I, Frankenstein" and comic book writer), Damion Poitier (Avengers (in the last 2 minutes, he was the surprise Villian), Star Trek, Hunter Prey…and the son of Sidney Poitier). Also, C. Andrew Nelson (Darth Vader), Parker Stevenson (Hardy Boys), Richard Kiel (007 "Jaws"), William Katt (Greatest American Hero, House)…and more
COSPLAY Guests Jessica Nigri, Riddle (star of "Heroes of Cosplay"), Ivy Doomkitty, Anthony Misano… and many more will all be on site. Along with hundreds and hundreds of amazing fans all in costume.
Super-Star Cartoonist and Big Wow! Bigwig Frank Cho (Liberty Meadows, 50 Girls 50), will teach a 90-minute Figure Drawing Workshop with a live model, demonstrating fundamentals of technique and style. Any aspiring artist is welcome to sit in the audience and work along with Frank, who will provide priceless tips and critiques! And Inker Extraordinaire Mick Gray (Starman, Promethea) will once again provide a weekend-long inking demonstration as he works on his current comic book assignment at his booth! Don't miss this rare opportunity to see professional comic artists at work!
In conjunction with San Francisco's Cartoon Art Museum, Big Wow! Comic Fest proudly presents "BATMAN!, 75 years a Hero" Featuring Seven Decades of Original Art and Memorabilia from the DC Comics world-famous Super Hero. Also, there will be 2 additional shows, "The Art of MIKE ZECK!" And "The ART of FAMOUS MONSTERS".
And Speaking of Famous Monsters… We are hosting the 1st Annual "Horror/Fantasy/Sci-Fi Film Festival" with the legendary Famous Monsters Magazine… who are also hosting our Japanese guest, and presenting the "Famous Monsters of Filmland" Pavilion with guests, props, make-up and costume designers and more.
And no Big Wow! ComicFest is complete without our:
Live Art Auction, Costume/Cosplay Contest (Saturday night directly after the show), Gaming, Card & Role-Playing Games, "Creature Features Live" with host: John Stanley, showing the original "Night of the Living Dead."
Panel Discussions, including: Creating Comics, The Art of Self-Publishing, and how to Design and Create Your Own Costumes! There will be 5 rooms of programming going on, throughout the show.
Tickets are available on the website. And we have tickets available at over 30 participating comic book stores around Northern California.
Admission is only:
1 Day Adult $25.00 (at the door)
2 Day Adult $35.00 (at the door)
1 Day Child (8-14) $10.00 (at the door)
2 Day Child $15.00 (at the door)
CHILDREN UNDER 8 ARE FREE!
*Save $5.00 Off Admission! Buy tickets online, or at many local Comic Book Stores!
FOR MORE INFORMATION we will always have guest and programming updates for the show at: www.bigwowcomicfest.com. Also, most of our Guests will be available before the show for online, phone and in some cases, personal appearance Interviews.