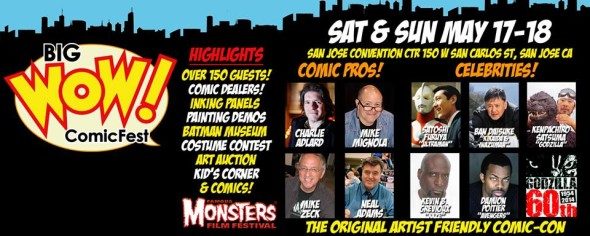 Press Release:
Big Wow Comic Fest's 2014 Programs & Panels schedule will be jam packed with Artist Demonstrations, Cosplay Instruction and fun, Creator Interviews and Presentations, and so many more exciting opportunities to interact with today's most talented creators! Also, don't forget the Live Art, Superman Museum Show, Kid's Corner and so much more going on at the show.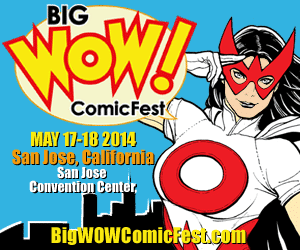 SATURDAY MAY 17, 2014
Famous Monsters Film Fest Day One (Program)
10:00 AM – 12:00 AM
Schedule to be posted soon.
Getting Started with Copic Pens (Panel)
12:00 PM – 1:00 PM
Want to buy some Copic pens but are intimidated by the sheer number of colors? Have some and don't know what to do with them? A Certified Copic Designer will give a bare-bones introduction, explain how the color system works, how to find discount prices and hints on how to start building up your studio collection. Note: This is NOT a certification class or hands-on workshop and is best suited for people with absolutely no experience with Copics. – Room D
Top Cow (Panel)
12:00 PM – 1:00 PM
Meet with Matt Hawkins, President and C.O.O of Top Cow Productions and writer of Aphrodite IX, Think Tank, and other highly acclaimed series, for a discussion on the future of Top Cow as well as what's on all of your minds: how to break into comics! With information on Top Cow's annual Talent Hunt, the tricks of the trade, and just what it takes to make your pitch pop, this is one panel you won't want to miss. – Room A
Working with Greg Rucka… (Panel)
12:00 PM – 1:00 PM
Guest artists Michael Lark and Justin Greenwood will discuss their takes on working with writer Greg Rucka, and he with them. Michael Lark has worked with Greg on multiple occasions including Gotham Central, Punisher and their creator owned Image title Lazarus. Justin Greenwood is currently working with Greg on Stumptown. Hear from both an artist's and writer's perspective as to when they know there is a good creative match on a project and why. These creators will discuss their projects and the creative process. Moderated by David Brothers, Editor of Lazarus & Content Manager for Image Comics – Room B
Attending Guests: Justin Greenwood, Michael Lark, Greg Rucka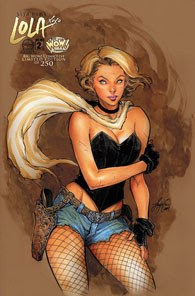 Collecting Batman! (Panel)
1:00 PM – 2:00 PM
Holy Grails, Batman! Celebrate the Dark Knight's 75th anniversary and Big Wow! Comicfest's exclusive Batman Museum with Bill Morrison and a panel of Batman collectors! Panelists will discuss their Caped Crusader Collections, swap stories about great finds, lament the items that got away, compare notes about where they draw the line, and reveal their most sought-after, yet-to-be-collected bat-baubles! – Room B
Attending Guests: Bill Morrison
Remembering the Ackermansion (Panel)
1:00 PM – 2:00 PM
Filmmakers Tom Wyrsch and Strephon Taylor (Remembering Playland at the Beach", Sutros: The Palace at Lands End") will present highlights from their brand new feature length film, "Uncle Forry's Ackermansions" The film is a vast tour of Forrest J Ackerman's, now gone, Los Angeles mansion-museum starting with the original Ackermansion and ending with the Acker-mini-mansion. Archival footage with hundreds photographs make up a fascinating video tour. Joining the panel will be Tom Khamis (LASFS Historian), Audience Q&A inlcuded. – Room D
Attending Guests: Strephon Taylor, Tom Wyrsch
Cultural Diversity in Comics (Panel)
2:00 PM – 3:00 PM
Positives and negative strides towards Cultural Diversity in the comics genre and film. Have there been enough strides not only in the books and films but behind the scenes? What can be done to make it better for everyone or is it fine where it is at? – Room D
Attending Guests: Kevin Bernard Grevioux, Damion Poitier, David Williams
Punchdrunk Mustache! (Panel)
2:00 PM – 3:00 PM
Join nine current and former Lucasfilm Animation Artists as they discuss the creation of the art book Punchdrunk Mustache, published last summer to great acclaim by Design Studio Press. Featuring stories and concepts created by Star Wars: The Force Unleashed artists Amy Beth Christenson, Chris Voy and Jeff Sangalli, as well as artists who contributed to Star Wars: The Clone Wars and Star Wars: Detours, Punchdrunk Mustache is a visual thrill ride! Spend time with theses talented artists. – Room C
Attending Guests: John-Paul Balmet, Will Nichols, Sean Pando, Amy Beth Christenson Smith, Chris Voy, Nate Watson
The Art of Kaiju & Master of Monster (Panel)
2:00 PM – 3:00 PM
Kaiju expert, FM guest editor, and author of the newly reprinted Eiji Tsuburaya: Master of Monster, August Ragone will be joined by Hugo Award-winning and FM cover artist Bob Eggleton to talk about how Japanese monsters have shaped Wester pop culture, influenced their personal and professional lives, and why character like Godzilla and Ultraman continue to be worldwide sensations. – Room B
Attending Guests: Bob Eggleton, August Ragone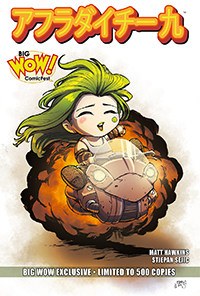 Comics University (Panel)
3:00 PM – 4:00 PM
"Comics University", a discussion co-moderated by panelists Ed Luce (Professor in the Comics MFA Program at California College of the Arts and creator of Wuvable Oaf Comics) and Maia Kobabe (CCA Comics MFA student and creator of "The Thief's Tale" comics). Ed and Maia, along with both undergraduate and Comics MFA grads, will discuss how comics fit into the diverse undergraduate program at CCA, the myriad of professional reasons one might pursue a Master's Degree in comics. – Room D
Doug Sneyd – 50 Years of Playboy (Panel)
3:00 PM – 4:00 PM
Doug has worked for Playboy magazine since the early 1964, many remember lovely scantily (and even non-) clad "Sneyd" girls and the one-line jokes he did thru the years. Though many may not know the man behind all the great art and humour. Come hear Doug talk about his career drawing for Playboy. – Room C
Attending Guests: Doug Sneyd
Japan's Heroes and Monsters (Panel)
3:00 PM – 4:00 PM
August Ragone and his Kaiju crew will be hosting FM's panel that will feature Kenpachiro Satsuma (Godzilla, '84-'95), Bin Furuya (Ultraman), and Daisuke Ban (Kikaida, Inazuman). Each actor will tell their stories of how they came to embody these incredible roles, as well as take questions from the audience. – Room A
Attending Guests: Daisuke Ban, Satoshi Furuya, August Ragone, Kenpachiro Satsuma
Madefire (Panel)
3:00 PM – 4:00 PM
Charlie Adlard, Liam Sharp, Ben Wolstenholme and the good folk of Madefire host a talk and Q & A about opportunities for old and new creators in the digital realm, and how comics and motion books can be good for each other. A must for anybody interested in new ways of getting their work seen! – Room B
Attending Guests: Charlie Adlard, Daniel Presedo, Liam Sharp

Dan Brereton Portfolio Review (Panel)
4:00 PM – 5:00 PM
It isn't your impressive artwork alone that will land you a job or the position you're seeking, but the presentation of your artwork in your portfolio. Veteran illustrator and painter Dan Brereton will be on hand to discuss your artwork in a friendly and constructive group critique, as well as the presentation of your work. All age, skill and experience levels are welcome. – Room D
Attending Guests: Dan Brereton
CBLDF Comic Code (Panel)
5:00 PM – 6:00 PM
60 years ago, comics were put on trial in a nationally televised Senate subcommittee hearing that had shattering repercussions for this great American art form. The Comic Book Legal Defense Fund presents the shocking history of moral panic that led to this historic hearing and the birth of the Comics Code Authority, which regulated the medium's content for more than 50 years. CBLDF Executive Director Charles Brownstein tells the tale at this CBLDF presentation. – Room D
BigWOW ComicFest Art Auction (Panel)
6:00 PM – 8:00 PM
This will be your opportunity to bid on and win pieces of original collectible art, hand drawn, by numerous guests who are attending the show. All of the art will be on display in the exhibitor hall, museum gallery, throughout the day Saturday and will be available to be bid on in a blind auction format.
Come to the live auction portion of the event to bid on various pieces of art created specifically for the auction by the likes of Frank Cho, Michael Lark, Alfonso Azpiri, Frank Cirocco, Rich Koslowski and some published pieces contributed by Charlie Adlard, Justin Greenwood and many others! A number of the convention's guests will be on-hand to mingle at this social event and to encourage fans to bid high on their works of art! – Room B
There will be a cash bar setup in the auction room for those interested. This should be a lively and entertaining event for all. Both cash and credit cards will be accepted for your art auction purchases.
Creature Features Live! (Panel)
7:00 PM – 9:00 PM
Back by popular demand is Creature Features Live! Hosted by John Stanley and Lord Blood-Rah. Presented just as Creature Features was back in the early eighties, but on stage rather than on television. Opening dialog, feature length movie "Night of the Living Dead" a Creature Features classic, TV commercials, guest interviews, special announcements, and Living Dead in the audience. – Room A
Attending Guests: Lord Blood-Rah, John Stanley
SUNDAY MAY 18, 2014
Famous Monsters Film Fest Day Two (Program)
10:00 AM – 6:00 PM
Schedule to be posted soon.
CreaturesCon 3 (Panel)
11:00 AM – 12:00 PM
Join the CreaturesCon gang, John Stanley (Creature Features 1971 to 1984), Ernie Fosselius (Hardware Wars), Lord Blood-Rah (Movie Host), Tom Wyrsch (Writer / Director) and Strephon Taylor (November Fire) for an information-packed journey through Creature Features, TV Horror Hosting, classic Sci-Fi and Horror films, Bob Wilkins and much more. The panel will share personal memories, show rare video clips and review Creature Features favorite films. Audience Q&A included. – Room B
Attending Guests: Lord Blood-Rah, Ernie Fosselius, John Stanley, Strephon Taylor, Tom Wyrsch
Drawing The Walking Dead (Panel)
11:00 AM – 12:00 PM
Artist, Charlie Adlard, and inker Stefano Gaudiano discuss what it is like to create the images behind the hugely successful comic and tv series The Walking Dead. Charlie will explain how his art style has evolved during his tenure on the book and how having an inker allows him to work differently now. Stefano, being the newest addition to the team, shares his experiences of inking Charlie and how this project differs from his vast number of other previous collaborations. They'll discuss the controversial "All Out War" storyline and how working on a near bi-weekly schedule for a year affected how they worked. Moderated by Mark Hay, owner of Splash Page Comic Art, art dealer for Charlie & Stefano – Room A
Attending Guests: Charlie Adlard, Stefano Gaudiano
Drawing Who (Panel)
11:00 AM – 12:00 PM
Josh Adams (DOCTOR WHO, EUREKA, WAREHOUSE 13, GARDEN OF STEVEN) and Blair Shedd (DOCTOR WHO, LEGENDS OF OZ, GHOSTBUSTERS, THE RAPTOR) have both had the honor of being chosen to draw official Doctor Who comics for IDW Publishing. Josh and Blair will talk about how they got the job (and other behind the scenes stories), meeting Doctor Who cast and crew, chat about Who-fandom in general, and do a Q and A if the audience wishes. – Room C
Attending Guests: Josh Adams, Blair Shedd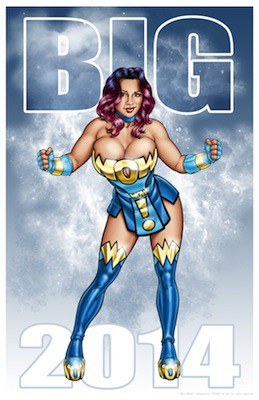 Figure Drawing with Frank Cho (Panel)
12:00 PM – 1:00 PM
Free figure drawing class open to public, headed by Marvel Comics artist, Frank Cho. Cosplayer, Ivy Doomkitty, will model for this drawing class. All the audience members are encoraged to draw along
with Frank Cho, who will critique the drawings by the audience members at the end of class. – Room A
Attending Guests: Frank Cho, Ivy Doomkitty
Jack Kirby Museum (Panel)
12:00 PM – 1:00 PM
Jack Kirby is the creator or co-creator of The X-Men, Hulk Iron Man, the Fantastic Four, Captain America, The Avengers, Darkseid, Mister Miracle and hundreds more. He was probably the most prolific comics artist ever and almost every artist is inspired by him. Artists will discuss which comics led them to follow Jack, what panels they have learned from, and how hard it is to make that Kirby Krackle look right. – Room C
Attending Guests: Mark Badger, Bruce Simon
Native Americans in Comics (Panel)
12:00 PM – 1:00 PM
Ever since Native American people began drawing on rock walls, they've been part of the comic book universe. However, stereotypes persist due to the lack of Native artists or writers employed by the mainstream comics industry. Now, these artists have taken initiative and formed The Indigenous Narratives Collective and INC Comics. INC's Arigon Starr ("Super Indian") and Lee Francis IV ("Pueblo Jones") will discuss the state of Native American comics. Moderated by UC Santa Cruz's writer/poet/playwright Dr. Carolyn Dunn. – Room D
Attending Guests: Arigon Starr
Marvel Masterpiece Theatre (Panel)
1:00 PM – 2:00 PM
MARVEL MASTERPIECE THEATER ! presents a dramatic table read of the 1968 Marvel Comics classic tale unfolded in AVENGERS 59 & 60, "The Wedding of Yellowjacket & Wasp", by Roy Thomas and John Buscema. Both issues feature a number of cameos from the Marvel universe of the late Sixties, fun pop culture references of the day, amazing superhero action and sizzling dialogue ! Pages of Big John Buscema's fantastic art and storytelling will follow on the screen as our cast reads the text. – Room B
Attending Guests: Mark Badger, Dan Brereton, Damion Poitier, Liam Sharp, Jane Wiedlin
Collecting Comic Art (Panel)
2:00 PM – 3:00 PM
Have you ever wanted something from your favorite comic book? Brian Peck and fellow collectors guide you through the world of collecting comic art – from what it all means, to where to find the art. Discussing a wide range of topics from History of how this hobby started to grow and what use to happen to all the art in the old days? How computers have changed the look of (or non-existance of in some cases) original art? How the internet has changed and expanded the art hobby? How ebay has altered the collectors market? How the auction houses have impacted the hobby? Comparison of values between cover/splashes/interiors? Conservation and preservation? – Room D
Japan's Heroes and Monsters (Panel)
2:00 PM – 3:00 PM
August Ragone and his Kaiju crew will be hosting FM's panel that will feature Kenpachiro Satsuma (Godzilla, '84-'95), Bin Furuya (Ultraman), and Daisuke Ban (Kikaida, Inazuman). Each actor will tell their stories of how they came to embody these incredible roles, as well as take questions from the audience. – Room C
Attending Guests: Daisuke Ban, Satoshi Furuya, August Ragone, Kenpachiro Satsuma
CBLDF Auction (Panel)
3:00 PM – 4:00 PM
Top creators Terry Moore, along with some guests to be announced will create live art before your eyes. The only rule is that it would have been forbidden by the Comics Code! Join the CBLDF and these great creators as they talk censorship and make once-in-a-lifetime art! Get a chance to watch live art made before your eyes, learn about censorship, and bid to win the pieces made here to benefit the Comic Book Legal Defense Fund. – Room B
Attending Guests: Terry Moore
Comics And Comics (Panel)
3:00 PM – 4:00 PM
Geeks Assemble! "Comics and Comics" is all-fanboy stand-up comedy, presented by the nerdiest comedians in the multiverse. From comic books to video games, from anime to Dr. Who, from Star Wars to Star Trek, from Dungeons and Dragons to that one episode of Thundarr the Barbarian where the evil wizards have this race to determine who gets the Helmet of Power, you can rest assured that all geek bases will be covered! – Room C
The Batman Chronicles: Special Screening & Discussion (Panel)
4:00 PM – 5:00 PM
A three part short film following a young Bruce Wayne as he struggles with a corrupt justice department & faces off against a maniacal new menace hell bent on taking over Gotham. All three parts of the film will be shown, followed by a Q&A with Actor, Producer & Editor Anthony Misiano. – Room C
Attending Guests: Anthony Misiano
The Science and Fiction of Alternate Realities (Panel)
4:00 PM – 5:00 PM
The idea that there may be universes other than our own has long been a staple of fantasy and science fiction. Now physicists are telling us that there may be some truth in this idea. How much is fact and how much is fiction? Are there other universe? If there are, how similar are they to our own? Do universes "split," and if so, how? Would it be possible to travel between them. What are some of the ways these ideas have been explored in fiction — and what avenues are still ripe. – Room D
Big Wow! ComicFest – The Original Artist Friendly Convention – returns to San Jose May 17th & 18th, 2014, bringing two great days of Comic Book, Anime/Manga, Art, Sci-Fi, Fantasy, Gaming and Cosplay FUN! Many of the country's best vendors of all things cool and collectible will tempt your wallets with the perfect gifts for Geek, Fans and True Collectors, everywhere! Big Wow! ComicFest is the only major comics event in the San Francisco Bay Area this year.
Be sure to follow us on both Facebook and Twitter to stay up-to-date on all our upcoming announcements!