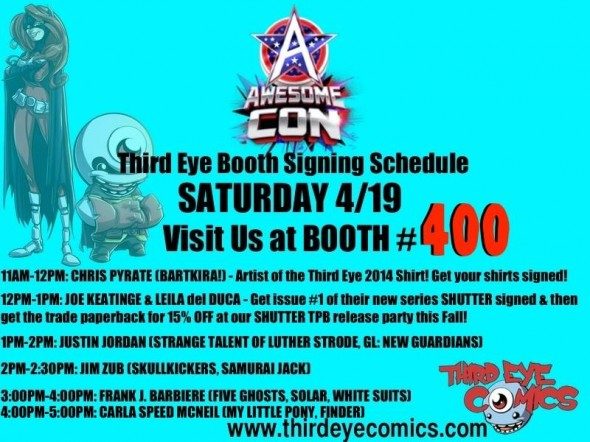 Press Release:
As many of you know, we like to really bring the Third Eye Comics experience to the floor of any convention we set up at, and with how awesome AwesomeCon is shaping up to be — we really put together something special for you this year!
We've got a HUGE space loaded with cool stuff for you to snag, and, we've got a roster of all-star comic creators signing at the booth all throughout the day!
Here is the official schedule for the Third Eye Booth at AwesomeCon on Saturday 4/19/14!
11AM-12PM: Chris Pyrate (Bartkira) – Artist of the new Third Eye 2014 Summer T-Shirt! Purchase one of these limited run shirts, and get it signed by the artist!
12PM-1PM Joe Keatinge & Leila del Duca – Get issue #1 of their new series SHUTTER (From IMAGE COMICS) signed at the Third Eye Booth & get a 15% off discount on the SHUTTER TPB this Fall!
1PM-2PM: JUSTIN JORDAN (STRANGE TALENT OF LUTHER STRODE, GREEN LANTERN NEW GUARDIANS, DEAD BODY ROAD)
2PM-2:30PM: JIM ZUB (SKULLKICKERS, SAMURAI JACK, PATHFINDER)
3PM-4PM: FRANK J. BARBIERE (SOLAR MAN OF THE ATOM, FIVE GHOSTS, WHITE SUITS) & FRED VAN LENTE (MAGNUS ROBOT FIGHTER, INCREDIBLE HERCULES, ARCHER & ARMSTRONG)
4PM-5PM: CARLA SPEED MCNEIL (MY LITTLE PONY FRIENDS FOREVER, FINDER)
We'll have tons of great books available for sale by these talented folks at the Third Eye booth during their signings!
All signings take place on Saturday, but the Third Eye booth will be at AwesomeCon all 3 days Friday, Saturday and Sunday! Make sure you get your tickets online to avoid long purchase lines!