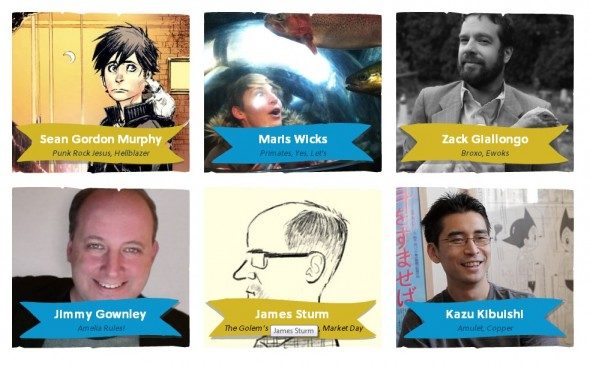 The Maine Comics Arts Festival will be held in Portland, ME on Sunday, May 18, 2014. Featuring over 100 comics writers, artists and publishers, this will be a celebration of the comics art form. There will be everyone from mini comics publishers to seasoned professionals. There will be comic book writers and artists, gag cartoonists, newspaper cartoonists, web comics creators and more. The guests will have their own work available for sale. Some people will be doing sketches and selling original artwork. Others will have t-shirts, buttons and posters. All of them have one thing in common… a love of comics.
For our 2014 show MeCAF is moving to a new venue: The Portland Company Complex located at 58 Fore Street in downtown Portland, ME. This wonderful waterfront facility offers more exhibition space, free WiFi, as well as attached panel and workshop areas to accommodate our growing festival. The festival opens to the public at 10:00 am and closes at 5:00 pm. Admission is only $5.00. Children 12 and under get in free.
Guests include Kazu Kibushi (Amulet, Harry Potter), Sean Murphy (The Wake, Punk Rock Jesus), Jimmy Gownley (Amelia Rules), Colleen AF Venable (Guinea PIg: Pet Shop Private Eye), Ben Hatke (Zita the Spacegirl), James Sturm (Adventures in Cartooning), Joe Quinones (Marvel and DC Comics artist), Shelli Paroline and Braden Lamb (Adventure Time), Zack Giallongo (Broxo, Star Wars: Ewoks), Maris Wicks (Primates), and over 100 other comics creators! More to be announced soon!