Press Release:
Marvel Comics & Wizard World Reveal 'Wolverine #1' Exclusive Variant Cover By Greg Horn For Sacramento Comic Con
VIP Attendees Receive Free Copy, March 7-9; Continues Year-long Series In Which Marvel Will Offer Exclusive Books At All 16 Wizard World Shows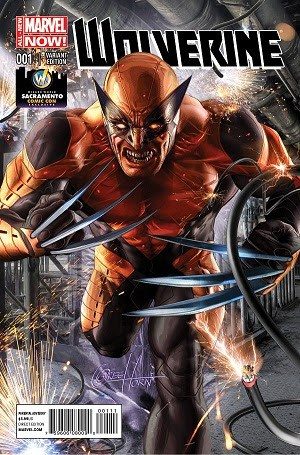 NEW YORK, January 16, 2014 – Marvel Comics and Wizard World, Inc. (OTCBB: WIZD) today revealed the latest edition of its 2014 series of exclusive variant covers of the best Marvel titles with the unveiling of Wolverine #1, drawn by prolific cover artist Greg Horn. VIP attendees at the inaugural Wizard World Sacramento Comic Con, March 7-9 at the Sacramento Convention Center, will receive a free copy of the limited-edition book at registration. The exclusive will be limited to 3,000 copies.
Horn is scheduled to be on site at the event to sign copies (autograph fees may apply). Leading professional comic grader CGC will also be on hand to accept books for grading and Signature Series.
Horn's Wolverine #1 follows the first two entries, Miracleman #1 and Miracleman #2, both drawn by Eisner Award Hall of Famer Neal Adams for Wizard World Portland Comic Con (Jan. 24-26) and New Orleans Comic Con (Feb. 7-9), respectively.
"Greg Horn's bombastic variant cover will hit Wizard attendees like a freight train made of pure Adamantium, but it's just a hint of what's in store for Marvel readers," said David Gabriel, Marvel Comics' SVP of Sales.  "Brace yourself for one of the most anticipated, controversial and inevitable stories in the long, hard saga of Logan's life."
Horn is best known for his artwork on Marvel titles Elektra, Emma Frost, and She-Hulk. He was also the regular cover artist on the acclaimed series Ms. Marvel by Brian Reed. His work in comic books has opened up opportunities on high profile projects in advertising, video games, magazine covers, editorial, boardgames, and novels.
"Greg's work is absolutely amazing and his Wolverine pops from the cover in an extraordinary way." says John Macaluso, Wizard World CEO.  "We are once again thrilled to bring our fans the best books with the top artists from the Marvel universe. As always, we love having Greg as a Special Guest at our show."
Wizard World Comic Con events bring together thousands of fans of all ages to celebrate the best in pop-fi, pop culture, movies, graphic novels, comics, toys, video gaming, television, sci-fi, gaming, original art, collectibles, contests and more.  A first-class lineup of topical programming takes place at each event, with celebrity Q&A's, comics-themed sessions, costume contest, movie screenings, evening parties and more. Sunday is also Kids Day, with an array of activities and programming specially designed for the younger Wizard World fans.
Wizard World Comic Con is also the place for cosplay, with fans young and old showing off their best costumes throughout the event.  Fans dressed as every imaginable character – and some never before dreamed –  will roam the convention floor, often stopping by the Show Stage, the ideal place to see and be seen.
For more on the 2014 Wizard World Sacramento Comic Con, go to http://www.wizardworld.com/home-sacramento.html.
About Wizard World:
Wizard World, Inc. (OTCBB: WIZD) produces Comic Cons and pop culture conventions across North America that celebrate graphic novels, comic books, cosplay, movies, TV shows, gaming, technology, toys and social networking. The events often feature celebrities from movies and TV, artists and writers, and events such as premieres, gaming tournaments, panels, and costume contests.
About Marvel Entertainment, LLC
Marvel Entertainment, LLC, a wholly owned subsidiary of The Walt Disney Company, is one of the world's most prominent character-based entertainment companies, built on a proven library of more than 8,000 characters featured in a variety of media over seventy years. Marvel utilizes its character franchises in entertainment, licensing and publishing. For more information, visit marvel.com.
The full event schedule can be found at www.wizardworld.com.
Wizard World 2014 Schedule
January 24-26 – Wizard World Portland Comic Con
February 7-9 – Wizard World New Orleans Comic Con
March 7-9 – Wizard World Sacramento Comic Con
March 28-30 – Wizard World Louisville Comic Con
April 4-6 – Wizard World St. Louis Comic Con
May 2-4 – Wizard World Minneapolis Comic Con
May 30-June 1 – Wizard World Atlanta Comic Con
June 19-22 – Wizard World Philadelphia Comic Con
August 1-3 – Wizard World San Antonio Comic Con
August 21-24 – Wizard World Chicago Comic Con
September 12-14 – Wizard World Richmond Comic Con
September 26-28 – Wizard World Nashville Comic Con
October 2-4 – Wizard World Austin Comic Con
October 31-November 2 – Wizard World Ohio Comic Con
November 7-9 – Wizard World Tulsa Comic Con
November 21-23 – Wizard World Reno Comic Con