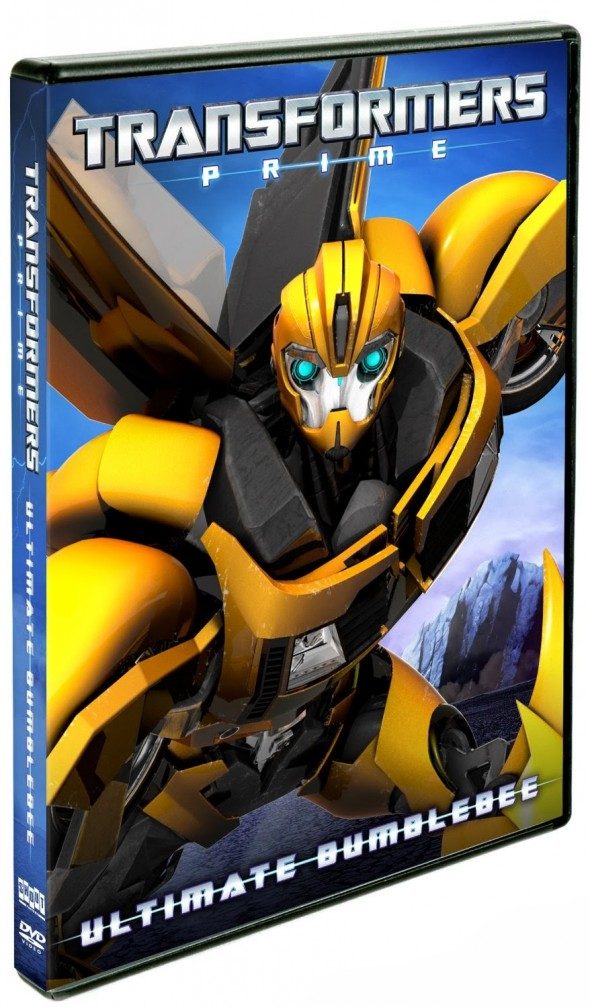 Transformers Prime: Ultimate Bumblebee DVD featuring action-packed Bumblebee animated adventures!
Coming to DVD February 25, 2014
I was 10 years old when Hasbro brought the Transformers to life. A true 'Generation One' kid, I still know every word to the original cartoon theme song. I remember the excitement I felt when assembling a new action figure, and the devastation of being handed a Gobot. Oh, the horror! Having mixed feelings about the recent big screen film franchise, and hoping to revisit a bit of my youth, I jumped at the opportunity to review Transformers Prime: Ultimate Bumblebee.
Here is the official lowdown on this new DVD:
"Spring into action with BUMBLEBEE from Hasbro Studio's Emmy Award-winning series TRANSFORMERS PRIME! Beloved by kids and legions of fans worldwide, BUMBLEBEE is a dedicated warrior and a scout who serves as part of the elite squad lead by OPTIMUS PRIME. Though he may be one of the smallest and youngest of the TRANSFORMERS, don't let that fool you. Time and time again, this AUTOBOT proves that he has the bravery to fight for what is right and the tenacity to throw himself into action to battle against his opponents no matter where they appear."
The DVD is a collection of what they have deemed the "four best Bumblebee adventures from the Transformers Prime lore." Clearly, I had been out of the loop for quite some time. Lore? Canon? I've missed so much! I decided to watch all four episodes first, and then I did some research in order to catch up on the many incarnations the Transformers have had since last I watched. I have to say, I enjoyed it more than I expected to. For an animated series seemingly targeted at kids, the action sequences were fairly on target for an adult audience. With so many SAT words and tech terms being tossed about, even the show's dialogue seems to favor a more mature audience. I am absolutely okay with that. Kids can still follow along, maybe not understanding every joke, but worst case scenario they stand to expand their vocabularies.
Visually, for its time (the series began its run in 2010) Transformers Prime is remarkable. The CGI allowed for seamless transformations of the Autobots and Decepticons, morphing them instantly into their alter-ego vehicles and planes. Light and shadow reflected off of their metal exteriors just as you imagine it should. The CGI truly brings the cartoon to life, giving them "eyebrows", so to speak, in order to show more emotion in their facial expressions. At times, it felt more like watching an actual movie than a weekly animated series. This is certainly not the Transformers of my youth!
One complaint? Well, it's not so much a complaint as it is a personal opinion: What is up with Arcee? I don't want to come off sounding like some sort of crazed feminist, but I had hoped enough years had passed to where we could stop sexually objectifying a machine. I'm glad they ditched her original pink and white color scheme, going instead with a sleek blue and black over chrome look. Facially, she resembles the rest of the Transformers a bit more now. She's pretty hard core. That is, until you realize that, once again, she has been given a teeny tiny waist line, conveniently colored breast plates, and so forth. Yes, they decided to make a female Transformer, but does she have to move so dainty and fluid. Her front cycle wheel always leaves her standing off-center towards one hip; a convenient way to accentuate her curves. Even Marilyn Monroe had one heel filed down to make her shoes uneven, resulting in her signature tail-wag as she walked. But, Arcee is a machine. I don't want her to be the Marilyn Monroe of motorcycles. I want her to be the Michelle Rodriguez of motorcycles! But, I digress.
The episodes in question all highlight the sympathetic and loveable, Bumblebee. Like many great fictional characters before him, Bumblebee represents what is good in all of us. You don't have to be the biggest or the strongest in order to be the bravest. In fact, you may not be perfect at all; Bumblebee has no voice, remember? But he serves as a reminder that strength overcomes all challenges. I can't believe I'm waxing philosophical about a Transformer. But, yes, after watching Transformers Prime: Ultimate Bumblebee, I can honestly say that I would rank him right up there with my other favorite underdogs: the Hobbits. All in all, I enjoyed viewing this collection. (Side note: As much as I get a kick out of the Transformers, I can't help but yell at the TV in frustration over how much was 'borrowed' from the Avengers. This goes back to the very inception of our Autobot friends. I understand that over time, all of Marvel has repeated itself, just as D.C. has done within their plane of existence. There has even been an Avengers/Transformers cross-over comic series. Tesseract vs. AllSpark. It's impossible for me to ignore the similarities between the Avengers movie and the, in my opinion much inferior, Transformers: Dark of the Moon. However, watching Ultimate Bumblebee has peaked my interest, and I am willing to give the weekly series the benefit of the doubt.)
As I mentioned, the story lines were more mature than I had anticipated, and they were delivered by a talented cast including Peter Cullen, Frank Welker, Josh Keaton, Jeffrey Combs (I could listen to him talk all day), Kevin Michael Richardson, Will Friedle, Sumalee Montano, Ernie Hudson (heck yeah!), Markie Post, and Steve Blum. Interestingly enough, on the series Transformers Prime, Cullen and Welker reprise the roles of Optimus Prime and Megatron, after having voiced the characters, respectively, in the series I grew up with from the 1980s.
On February 25, 2014, Shout! Factory Kids, in collaboration with Hasbro Studios, will release Transformers Prime: Ultimate Bumblebee Special DVD to Walmart stores everywhere. It will be available to own for an affordable price (MSRP $9.99) and if your kids like action–especially if they're Bumblebee fans, you may want to check it out. Transformers Prime, the animated series, airs on the HUB TV network; check your local listings if you are interested in keeping up with the show.
TRANSFORMERS PRIME: ULTIMATE BUMBLEBEE DVD features four action-packed Bumblebee adventures, including:
Masters and Students
Operation Bumblebee, Part 1
Operation Bumblebee, Part 2
Deadlock
About Hasbro Studios:
Hasbro Studios is the Los Angeles-based entertainment division of Hasbro, Inc. (NASDAQ:HAS). The studio is responsible for entertainment brand-driven storytelling for the company across television, film, commercial productions and short-form. It develops, produces and distributes TV shows based on Hasbro's world class brands, including TRANSFORMERS, MY LITTLE PONY, LITTLEST PET SHOP, and FAMILY GAME NIGHT. Many of these shows air on the Hub Network, a U.S. television network for kids and their families, that is a joint venture between Hasbro and Discovery Communications (NASDAQ: DISCA, DISCB, DISCK). Hasbro Studios shows can also be seen on networks in more than 180 territories globally. Since its formation in 2009, the studio has received seven Daytime Emmy wins and 16 nominations. On the film side, the studio is developing and producing a number of features based on Hasbro's brands, including TRANSFORMERS: AGE OF EXTINCTION (Paramount), G.I. Joe 3 (Paramount) and CANDY LAND (Sony). The studio team also oversees the production of commercials that feature Hasbro's brands as well as production of short-form content that can be seen on all of the major digital and social media platforms globally.
About Shout! Factory:
Shout! Factory, LLC is a diversified multi-platform entertainment company devoted to producing, uncovering, preserving and revitalizing the very best of pop culture. Founders Richard Foos, Bob Emmer and Garson Foos have spent their entire careers sharing their music, television and film favorites with discerning consumers the world over. Shout! Factory's DVD and Blue-Ray offerings serve up feature films, classic and contemporary TV series, animation, live music, and comedy specials in lavish packages crammed with extras. Shout's audio division boasts GRAMMY nominated "best of" compilations. In addition, Shout! Factory maintains a vast digital distribution network which delivers video and audio content to all the leading digital service providers in North America. Shout! Factory also owns and operates Timeless Media Group, Biograph Records, Majordomo Records, HighTone Records and Video Time Machine. These riches are the result of a creative acquisition mandate that has established the company as a hotbed of cultural preservation and commercial reinvention. Shout! Factory is based in Santa Monica, California.