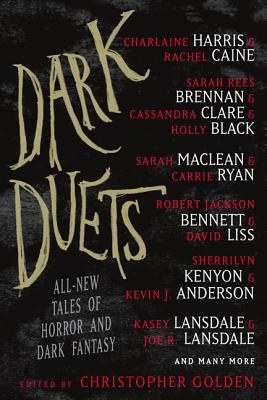 Christopher Golden, Rio Youers, and Nate Kenyon appear at Porter Square Books on Wednesday January 22nd at 7:00 pm!
Press Release:
Dark Duets is a feast of eerie and mesmerizing horror, thriller, and dark fantasy tales–an ambitious and unique anthology featuring biting and atmospheric original stories from seventeen pairs of acclaimed writers, all collaborating together for the first time. Penned by two authors–and in one case, a trio–who have never worked together before, the stories in this enthralling literary chemistry blend diverse elements and rich themes into mesmerizing and highly combustible tales that delve deep into the shadowy, unexplored realms of the imagination.
The readers for this event will be:
Christopher Golden is the award-winning, bestselling author of such novels as The Myth Hunters, The Boys Are Back in Town, The Ferryman, Strangewood, Of Saints and Shadows, and (with Tim Lebbon) The Map of Moments. His original novels have been published in more than fourteen languages in countries around the world. His latest novel is Snowblind.
Rio Youers is the author of two novellas, Mama Fish and Old Man Scratch—the latter earning him a British Fantasy Award nomination in 2010, the novels End Times and Westlake Soul, and the short story collection Dark Dreams, Pale Horses. His novelette, This is the Summer of Love, was the title story of PS Publishing's first new-look Postscripts anthology. His short fiction has also been published by IDW Publishing, Edge Science Fiction & Fantasy, and Shroud Magazine.
Nate Kenyon is the author of Bloodstone, a Bram Stoker Award finalist and winner of the P&E Horror Novel of the Year, The Reach, also a Bram Stoker Award finalist, The Bone Factory, Sparrow Rock, StarCraft: Ghost Spectres, Diablo III: The Order, and Day One. He is a member of the Horror Writers Association and International Thriller Writers. He lives in the Boston area.
Porter Square Books 
25 White Street, Cambridge, MA 02140-1413
617-491-2220